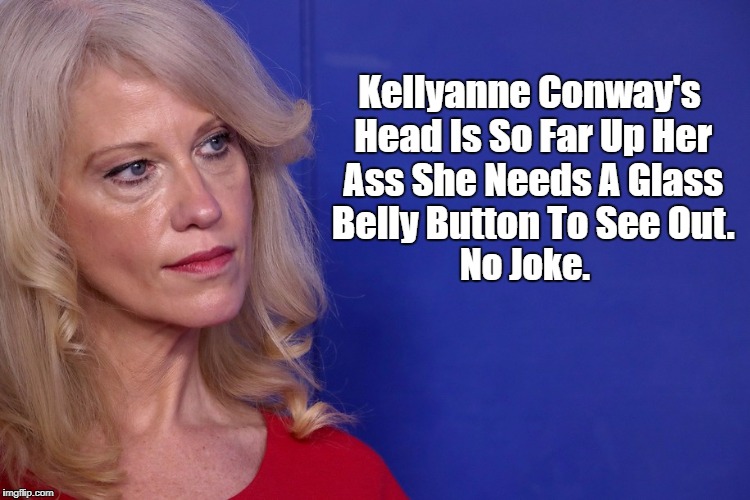 Kellyanne Conway Says People On Medicaid Should Just Get Jobs - But Most Already Have Jobs
https://www.dailykos.com/stories/2017/6/26/1675298/-Kellyanne-Conway-says-people-on-Medicaid-should-just-get-jobs-but-most-of-them-have
Most People Who Need Medicaid Work
NPR
http://www.npr.org/2017/06/27/534516199/enrollees-who-work-often-still-need-medicaid-kaiser-survey-shows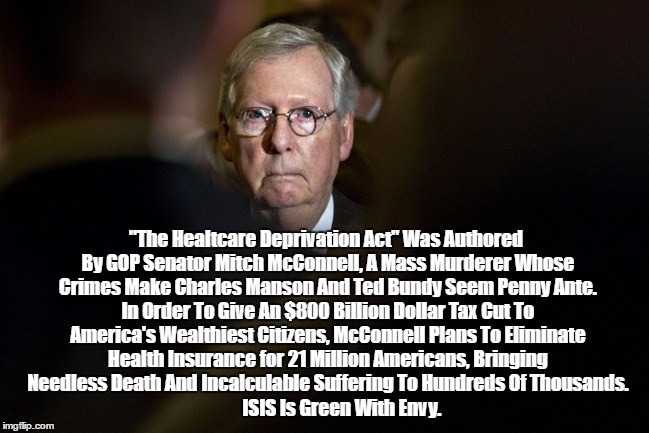 Senator Mitch McConnell, Mass Murderer And Envy Of ISIS
http://paxonbothhouses.blogspot.com/2017/06/republican-senator-mitch-mcconnell-mass.html
The Civil War: White Christians Slaughtering One Another On A Scale ISIS Can Only Dream Of
"Republicans Finally Admit Why They Hate Obamacare"
"GOP's Anti-Medicaid Expansion Body Count, By State"

http://paxonbothhouses.blogspot.com/2014/03/gops-anti-medicare-expansion-body-count.html
"Why Are Murderous GOP Governors Protected By The Press?"
The Hard, Central Truth Of Contemporary Conservatism
T
he hard, central "fact" of contemporary "conservatism" is its insistence on
a
socio-economic threshold
above which people deserve government assistance,
and below which people deserve to die.
Unless conservatives are showing n'er-do-wells
The Door of Doom
,
they
just don't "feel right."
Having poked their own eyes out, they fail to see that self-generated wrath creates "the gods" who hold them thrall.
The Evangelical Persecution Complex

(Projection's Finest Hour)
Almost "to a man," contemporary "conservatives" have apotheosized themselves and now -- sitting on God's usurped throne -- are rabid to pass
Final Judgment
.
S
elf-proclaimed Christians, eager to thrust "the undeserving" through The Gates of Hell, are the very people most likely to cross its threshold.
Remarkably, although they are prone to believe all manner of
Trumpeted
nonsense, none of them are tempted to believe in their own spiritual peril.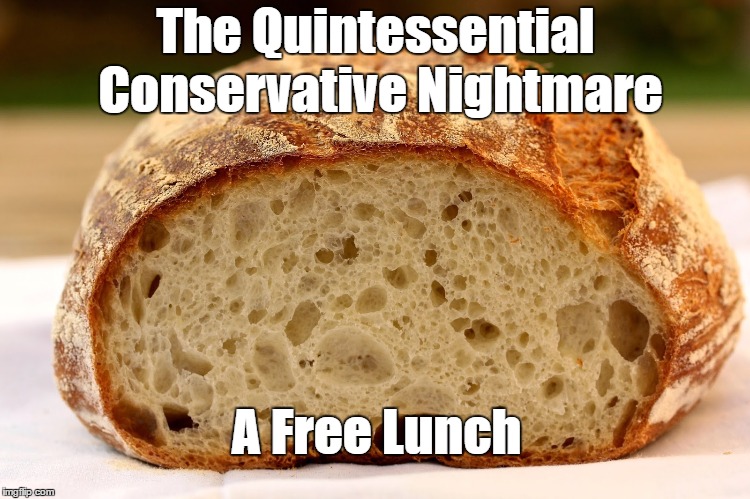 Yeshua Excoriates Fellow Pharisees: "The Woe Passages"
Pope Francis: Quotations On Finance, Economics, Capitalism And Inequality
Bill McKibben: "The Christian paradox: How a faithful nation gets Jesus wrong."
Ted Cruz Gives Detailed Explanation Of Trump's Pathological Obsession With Continuous Lying
The Borowitz Report: "Trump Blasts Media For Reporting What He Says"
28 Enormities That Prevent Conscionable People From Hoping Trump Is A Successful President
Donald's Doozies: A Yuge (And Yugely Incomplete) Compendium Of Trump's "Pants On Fire" Lies
Compendium Of Pax Posts About Donald Trump
Millions Of Deplorables Voted For Trump Because He Was The Only Candidate Who Was As Crazy As They Are
We Redacted Everything That's Not A Verifiably True Statement From Trump's Time Magazine Interview About Truth

Fact-Checking Trump's TIME Interview On Truths And Falsehoods

Donald Trump: A Man So Obnoxious That Karma May See Him Reincarnated As Himself
Shit-Slinger Trump Says Obama Wiretapped Trump Tower During Campaign. Obama Is "Bad, Sick"
The Best Photographic Evidence Of Trump Inaugural Crowd Size: From Stage & From Monument
National Park Service Releases Official Photos Of Trump And Obama's Inaugural Crowds
"There Are Two Ways Of Lying..." Denis De Rougemont And Donald Trump

Behind The Mask, The GOP's True Face: Ayn Rand's Ideological Acolyte Paul Ryan Promotes Her Central Belief That Altruism Is Evil




Why Americans Have A Moral Obligation NOT To Respect Donald Trump




American Conservatives And Aggressive Ignorance




Too Ignorant To Keep Democracy Alive




"Are Republicans Insane?" Best Pax Posts

"President Trump's Lies, The Definitive List"

New York Times
The reference above was uttered when Ms. Conway was still managing Ted Cruz' campaign.
Ted Cruz Gives Detailed Explanation Of Trump's Pathological Obsession With Continuous Lying