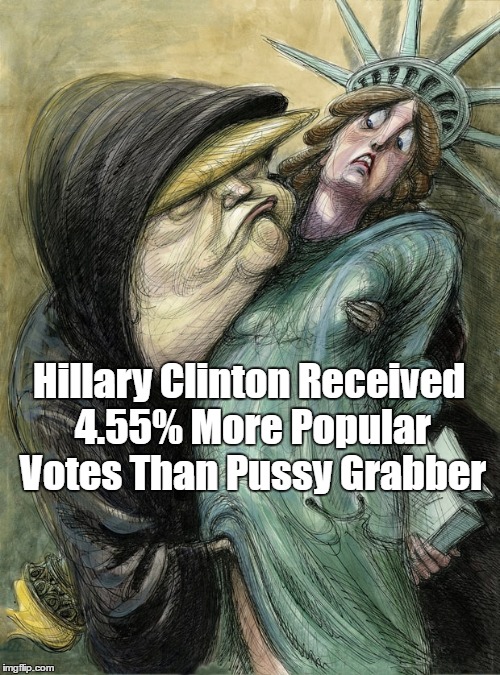 (Alan: I made the following reply to a comment on friend Tarantino's Facebook Page:
"W
ow, that's what's wrong with democrats. Poor losers. If Hillary had of won, I may not have been happy about it, but I would have hoped for the best with her. I don't want ANY President to fail. If they fail We All fail! Get over it already.")
I acknowledge -- as does every Democrat I know -- that Trump won the presidency according to the legal rules of the (outdated) Electoral College.
I do not dispute Trump's inauguration: He is the 45th president of the United States.
However, I also acknowledge that Hillary got 4.55% more popular votes than Donald did.
Clearly, the fact that Hillary trounced Trump in the popular vote has no legal standing.
But Trump's drubbing by "The People" does have substantial meaning under the widely-held principle of proportional representation.
Most people would agree that "one person, one vote" is a more meaningful electoral measure than "one person... what's your golf handicap?"

Although it is indisputable that Donald J. Trump is the legal president of the United States, it is also true that Hillary R. Clinton is, by resounding popular vote, The People's Choice.

As The People's Choice, I again wish to make clear that Hillary has no legal standing as president but she can be called (with just a slight admixture of poetic license) America's "Popular President." (And, in light of 2016's popular vote outcome, Trump can rightly be called a "loser" by determination of "We, The People.")

If tables were turned and Trump had won the popular vote by nearly 3 million ballots but lost to Hillary in The Electoral College, I cannot imagine ANY American conservative I personally know who could say (with a straight face) that they would "fully support Hillary" and "wish her every success."

"Can we talk?"


It is an incontrovertible fact that American conservatives, including GOP leadership, did EVERYTHING in their power -- for eight full years -- to obstruct Obama, simultaneously impugning his citizenship.
I would bet the eternal destiny of my soul that Trump would have denouced an unfavorable "split result" in 2016 as proof that "the election had been rigged." simultaneously repeating his 2012 tweet when it appeared that Romney had won the popular vote but lost The Electoral College: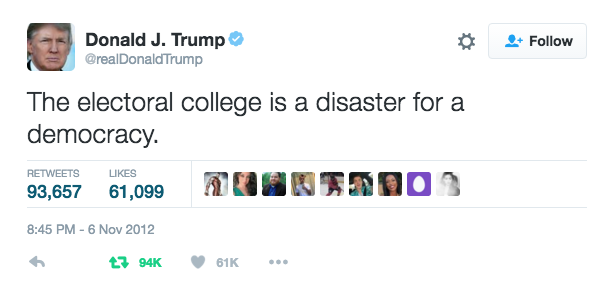 "In several tweets he later deleted, Trump wondered how Obama won even though Republican nominee Mitt Romney had more votes (though in the end, Obama won the popular vote as well).
"He lost the popular vote by a lot and won the election," Trump tweeted. "We should have a revolution in this country!""
Against this backdrop,
I do not believe that any human being, much less any American, should hope for the success of Trump's views on women, Muslims, Mexicans, or his public encouragement of partisan violence against his political foes.
Since memory is short and students of history few, please recall that Trump offered to pay the "legal tab" for any of his supporters who physically beat members of "the opposition."

Did you cheer The Donald's exhortation?
Or do you know brown shirts who did?
Having said all this, I totally agree with Donald's statement of October 15th, 2016 -- and I quote -- "The election is absolutely being rigged."
Fortunately for American conservatives, Trump has said "EVERYTHING" (at least once) which allows his followers to pick-and-choose from an "ideological closet" containing every conceivable "costume."
The Prince of Darkness --- one of whose names is "Legion" --- would be proud.
Make no mistake about this liar:
Trump is the cornerstone of The Post-Truth Era
and if his no-holds-barred promotion of super-saturated mendacity ends well for America, then surely there is no God whose Christian prophet, Yeshua, the Nazarene carpenter, said: "I am the way, the truth and the light."
Even so, I agree with Trump that George W. Bush should have been impeached.
"Israeli War Historian, Martin van Creveld's Startling Commentary On The Iraq War"
http://paxonbothhouses.blogspot.com/2014/06/israeli-war-historian-martin-van.html
Excerpt: "
For misleading the American people, and launching the most foolish war since Emperor Augustus in 9 B.C sent his legions into Germany and lost them, Bush deserves to be impeached and, once he has been removed from office, put on trial along with the rest of the president's men. If convicted, they'll have plenty of time to mull over their sins." War historian Martin van Creveld is the only non-U.S. author whose writings are obligatory reading by America's Officer Corps.
George Will:
"The 2003 Invasion Of Iraq Was The Worst Foreign Policy Decision In U.S. History"
Trump was also right to point out that Bush-Cheney's Invasion of Iraq was a "tremendous disservice to the Middle East (to the United States) and to humanity" and that the ego-driven invasion or our most recent Republican presidential team "destabilized the Middle East."

Here are Trump's views on The Iraq War as expressed in the Fourth GOP Candidates Debate in Milwaukee:
TRUMP: "One of the things that I'm frankly most proud of is that in 2003, 2004, I was totally against going into Iraq because you're going to destabilize the Middle East. I called it. I called it very strongly. And it was very important...
In my opinion, we've spent $4 trillion trying to topple various people that frankly, if they were there and if we could've spent that $4 trillion in the United States to fix our roads, our bridges, and all of the other problems; our airports and all of the other problems we've had, we would've been a lot better off. I can tell you that right now.
We have done a tremendous disservice, not only to the Middle East, we've done a tremendous disservice to humanity. The people that have been killed, the people that have wiped away, and for what? It's not like we had victory.
It's a mess. The Middle East is totally destabilized. A total and complete mess. I wish we had the $4 trillion or $5 trillion. I wish it were spent right here in the United States, on our schools, hospitals, roads, airports, and everything else that are all falling apart...
What do we have now?"
I am also in whole-hearted agreement with Trump's longstanding support for Universal Healthcare, the ultimate cost of which he would charge to government.
Trump is a
Rorschach Test
that attracts angry people desperate to vent anger in visceral ways.
VIDEO: Trump Tells More Lies Than Any U.S. Politician. Why Do "Patriots" And "Christians" Believe A Liar
I encourage my fellow Democrats to follow the advice of GOP leadership and
"get over" their appropriate criticism of Trump... as quickly as Republicans got over their bogus criticism of Obama as a non-American Muslim, born in Kenya.
Not that a Kenyan birthplace would have mattered.
As we learned from the candidacy of Ted Cruz, Republicans themselves - ever the standard bearers of Pharisaic hypocrisy in the modern world -- are fully aware that it does not matter where presidential candidates are born so long as one parent is an American citizen.
"Let's Just Say It: The Republicans Are The Problem"
Conservative Scholar Norman Ornstein
And finally, the area in which I applaud Trump unreservedly is his determination to revive and expand America's woefully threadbare infrastructure.

With this proviso...
Critical Quid Pro Quo Democrats Must Demand Of Trump Before Collaborating On Infrastructure
http://paxonbothhouses.blogspot.com/2017/01/a-critical-quid-pro-quo-democrats-must.html
If anyone wants specific references, I am happy to provide them.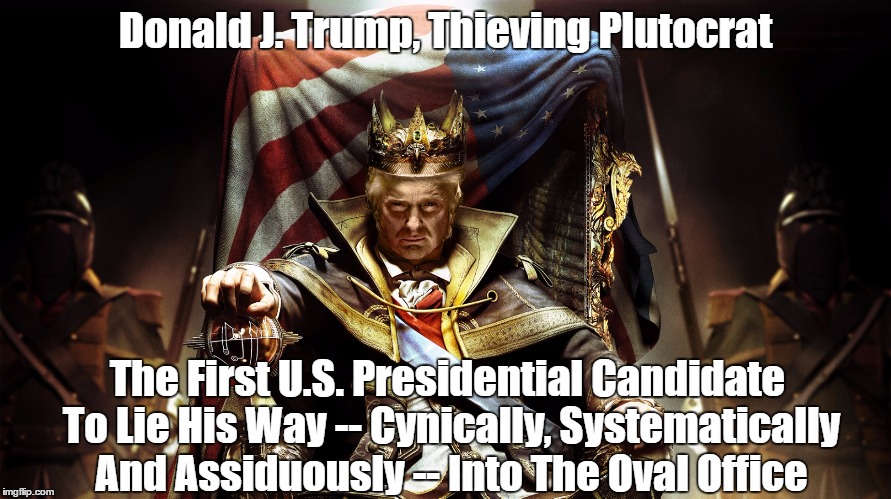 "Are Republicans Insane?" Best Pax Posts




"There Are Two Ways Of Lying..." Denis De Rougemont And Donald Trump