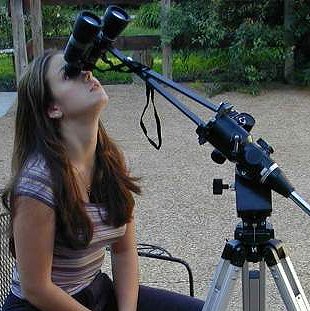 The best astronomy guide?
"Backyard Astronomer's Guide"
This recently updated classic is -- if not the best -- a very good place to start.
http://www.amazon.com/Backyard-Astronomers-Guide-Terence-Dickinson/dp/1554073448
"NightWatch: A Practical Guide to Viewing the Universe"
Another classic whose spiral-bound edition lets you lie on a backyard blanket and not worry about "keeping your place."
http://www.amazon.com/NightWatch-Practical-Guide-Viewing-Universe/dp/155407147X/ref=sr_1_3?s=books&ie=UTF8&qid=1414203406&sr=1-3&keywords=Turn+left+at+orion
If you intend to use a small telescope -- although many say that binoculars are a better viewing tool for most people -- consider:
"Turn Left at Orion: Hundreds of Night Sky Objects to See in a Home Telescope - and How to Find Them"
By Dave Brody, Science & Technology Writer | October 24, 2014
Most people have two eyes. Humans evolved to use them together (not all animals do). People form a continuous, stereoscopic panorama movie of the world within in their minds. With your two eyes tilted upward on a clear night, there's nothing standing between you and the universe. The easiest way to enhance your enjoyment of the night sky is to paint your brain with two channels of stronger starlight with a pair of binoculars. Even if you live in — or near — a large, light-polluted city, you may be surprised at how much astronomical detail you'll see through the right binoculars!
Most of our Editors' Choicesfor stargazing binoculars here are under $300. You can pay more than 10 times that for enormous binocular telescopes used by elite enthusiasts on special mounts! You'll also pay more for ruggedized ("mil spec," or military standard) binoculars, many of which suspend their prisms on shock mounts to keep the optics in precise alignment.
We think your needs are best served by reviewing in three categories.
Small, highly portable binoculars can be hand-held for viewing ease.
Medium binoculars offer higher powers of magnification, but still can be hand-held, if firmly braced.
Large binoculars have bigger "objective" lenses but must be mounted on a tripod or counterweighted arm for stability.
Here's a detailed look at our Editor's Choice selections for stargazing binoculars:
Best small binoculars
Editor's Choice: Oberwerk Mariner 8x40 (Cost: $150)
Runner-Up: Celestron Cometron 7x50 (Cost: $30)
Honorable Mention: Swarovski Habicht 8x30 (Cost: $1,050)
Honorable Mention: Nikon Aculon 7x50 (Cost: $110)
Best medium binoculars
Editor's Choice: Celestron SkyMaster 8x56 (Cost: $210)
A solid, chunky-feeling set of quality prisms and lenses makes these binoculars a pleasant, 38oz. handful. A medium wide 5.8 degrees filed of view and large 7mm exit pupil brings you gently into a sweet sky of bright, though perhaps not totally brilliant, stars. Fully dressed in a rubber wetsuit, these SkyMasters are waterproof. Feel free to take them boating or birding on a moist morning. Their optical tubes were blown out with dry nitrogen at the factory, then sealed. So you can expect them not to fog up, at least not from the inside. Celestron's strap-mounting points on the Skymaster 8x56 are recessed, so they don't bother your thumbs, but that location makes them hard to fasten.
Runner-Up: Oberwerk Ultra 15x70 (Cost: $380)
The most rugged pair we evaluated, these 15x70s are optically outstanding. Seen through the Ultra's exquisitely multi-coated glass, you may find yourself falling in love with the sky all over again. Oberwerk's method of suspending their BAK4 glass Porro prisms offers greater shock-resistance than most competitors' designs. While more costly than some comparable binoculars, they deliver superior value. Our only complaint is with their mass: At 5.5 lbs., these guys are heavy! You can hand-hold them for a short while, if you're lying down. But they are best placed on a tripod, or on a counterweighted arm, unless you like shaky squiggles where your point-source stars are supposed to be. Like most truly big binoculars, the eyepieces focus independently; there's no center focus wheel. These "binos" are for true astronomers.
Honorable Mention: Vixen Ascot 10x50 (Cost:$165)
Best large binoculars
Editors' Choice: Celestron SkyMaster 25x100 (Cost: $300)
Don't even think about hand-holding this 156-ounce beast! The SkyMaster 25x100 is really a pair of side-by-side 100mm short-tube refractor telescopes. Factor the cost of a sturdy tripod into your purchase decision, if you want to go this big. The monster Celestron comes with a sturdy support spar for mounting. Its properly multi-coated optics will haul in surprising detail from the sky. Just make sure your skies are dark; with this much magnification, light pollution can render your images dingy. As with many in the giant and super-giant class o
f binoculars, the oculars (non-removable eyepieces) focus separately, each rotating through an unusually long 450 degrees. Getting to critical focus can be challenging, but the view is worth it. You can resolve a bit of detail on face of the new moon (lit by "Earthshine") and pick out cloud bands on Jupiter; tha's pretty astonishing for binoculars.
BUY THE CELESTRON SKYMASTER 25x100 >>
Runner-Up: Orion Astronomy 20x80 (Cost: $150)
These big Orions distinguish themselves by price point; they're an excellent value. You could pay 10 times more for the comparably sized Steiners Military Observer 20x80 binoculars! Yes, the Orions are more delicate, a bit less bright and not quite as sharp. But they do offer amazingly high contrast; you'll catch significant detail in galaxies, comets and other "fuzzies." Unusually among such big rigs, the Astronomy 20x80 uses a center focus ring and one "diopter" (rather than independently focusing oculars); if you're graduating from smaller binoculars, which commonly use that approach, this may be a comfort. These binoculars are almost lightweight enough to hold them by hand. But don't do that, at least not for long periods. And don't drop them. They will go out of alignment if handled roughly.
Honorable Mention: Barska Cosmos 25x100 (Cost: $230)
Honorable Mention: Steiner Observer 20x80 (Cost: $1,500)
Why we chose NOT to review certain types
Image stabilized?
Comes with a camera?
Mega monster-sized?
Enjoy your universe
You have just taken the first step to lighting up your brain with star fire. May the photons be with you. Always.