Pax on both houses
The best is enemy of the good. The profoundest truths are paradoxical.
Tuesday, June 19, 2018
The Fact That American Conservatives (And Conspiracists) "Fall" For This Nonsense Reveals Their Lack Of Intellectual Rigor, All Around Dimwittedness And Eagerness To Project Their Own Deviousness Onto Other People
https://deadspin.com/yes-that-video-of-obama-that-mike-leach-tweeted-is-ver-1826914331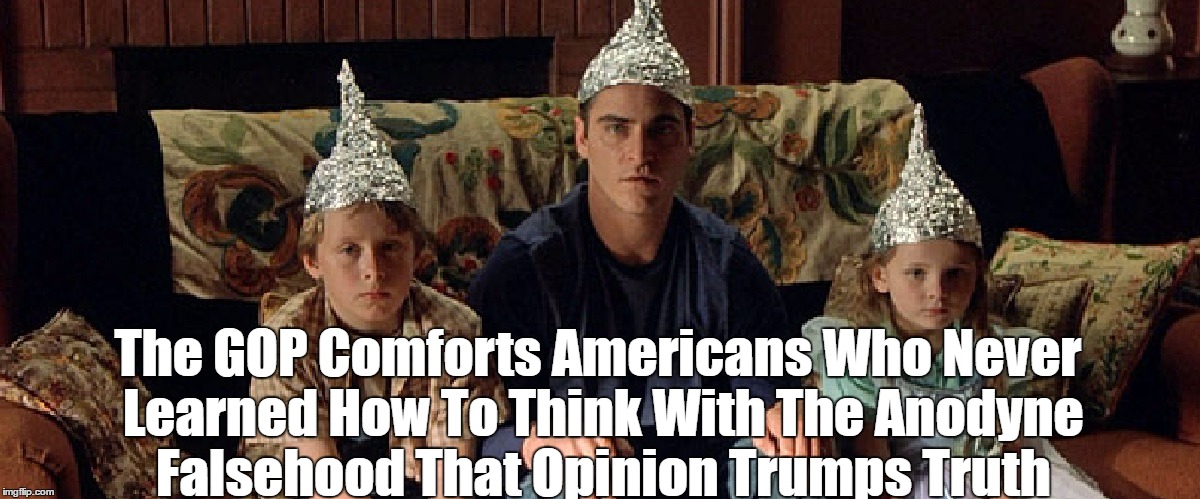 Conservatives Are Nuts: Kim Jong Un More Popular Than Nancy Pelosi Among Republicans
http://paxonbothhouses.blogspot.com/2018/06/conservatives-are-nuts-kim-jong-un-more.html
"Are Republicans Insane?" Best Pax Posts
CONSPIRACY - CONSPIRACISM
Compendium Of Pax Posts: Persuading A Loved One That His Conspiracism Is Mostly Crazy
My Friends' Devoted Conspiracism Is As Crazy As Trump's Birtherism. What To Do With Lunacy?
Harvey/Irma Hurricane Conspiracy Reveals The Idiocy Of Most Conspiracism
Ongoing Correspondence With A Conspiracist Friend Re: The "Staged" Slaughter At Sandy Hook
"More On The Newtown Massacre": Professor David Ray Griffin And The Swamp Of Conspiracism
"Who Killed Sister Cathy?" Tom Nugent
How Rochester, New York Detective Fantigrossi "Leaned On Me" To Identify The Wrong Man
The Thinking Housewife's Conspiracism: Exploring The Falsehood
Discussion With 9/11 Truther Friend About Epistemology, Belief, Certainty And Purpose
The 9/11 Truth Movement: Where Does It Lead?
"More On The Newtown Massacre": Professor David Ray Griffin And The Swamp Of Conspiracism
Conspiracy Thinking, The Death Of Shared Identity And The Collapse Of Common Purpose
"Crisis Acting": A Standard Conspiracist Hoax That Supposedly Reveals Hoaxes (Snopes)
The Daily Show Goes To Trump Rally To Hear Conspiracy Theories: They Are Not Disappointed
"More On The Newtown Massacre": Professor David Ray Griffin And The Swamp Of Conspiracism
Trump Resurrects Clinton-Foster Murder Conspiracy
Posted by

Alan Archibald
at 1:39 PM
No comments: