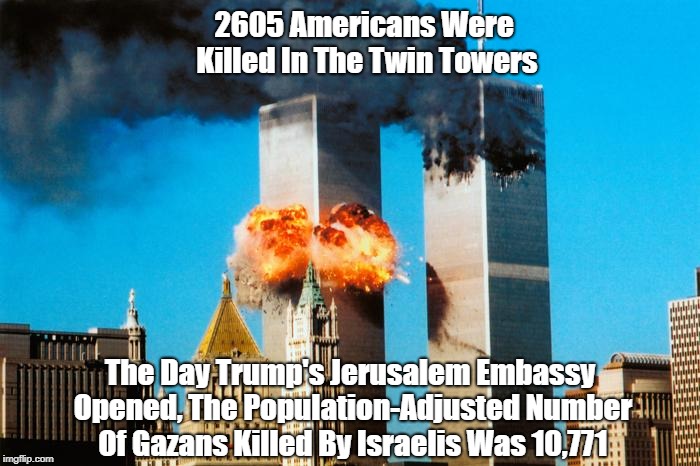 Adjusting For Population, The 60 Gazans Who Were Killed By Israel Today
Comprise The Numerical Equivalent Of 10,771 Dead Americans.


No Typo.

10,771.
Alan: For every U.S. citizen killed in The Twin Towers on 9/11, the "population-equivalent number" of Gazans killed today exceeds four.
In these "United" States, 9/11 marked the onset of our National Lunacy, a consuming madness from which we still suffer.
If their reaction is similar to Uncle Sam's, we can reasonably anticipate a consequence four times as catastrophic as The Iraq War and the subsequent unraveling of the established world order.
55 Palestinian Protestors Killed As U.S. Opens Jerusalem Embassy
https://www.npr.org/sections/thetwo-way/2018/05/14/610934534/18-palestinian-protesters-die-gaza-officials-say-as-u-s-opens-jerusalem-embassy
Pope Francis Condemns Killing Of Gazans
http://paxonbothhouses.blogspot.com/2018/05/pope-francis-condemns-killing-of.html
Letter From Gaza
http://paxonbothhouses.blogspot.com/2018/05/letter-from-gaza.html
Tel Aviv Diary: Hamas Is Desperate - And Desperate People Do Stupid, Self-Destructive Things
Palestinians carry the body of Mousab Abu Leila, 29, at his funeral after he was killed along the Gaza border during a protest against the U.S. move of its embassy to Jerusalem.
Critics Question Whether Pastor Who Said Hitler Was Sent By God (And That The Catholic Church Was "The Whore Of Babylon") Was A Good Choice To Speak At U.S. Embassy Opening In Jerusalem
Messianic U.S.-Israel Axis Showcased at Jerusalem Embassy Ceremony Is Gut-punch for Most American Jews
Haaretz
"Is Israel The World's Worst Terror State? An Israeli General's Son Thinks So"
"Bush's Toxic Legacy In Iraq"




Cheney's Lucid 1994 Rationale For NOT Invading Iraq. Conservatives "Must" See This.
"The Fall Of Iraq. Jawdropping Video Footage Of Cheney, Albright, Gen Clarke And Others"
"Terrorism And The Other Religions"