Critics Question Whether Pastor John Hagee Who Said Hitler Was Sent By God (And Who Referred To The Papacy "The Whore Of Babylon") Was A Good Choice To Speak At U.S. Embassy Opening In Israel
https://slate.com/news-and-politics/2018/05/israel-embassy-pastor-said-hitler-was-sent-by-god.html
Jerusalem Embassy Opening Featured Prayer From Pastor Who Says All Jews Are Going To Hel

l
http://paxonbothhouses.blogspot.com/2018/05/trumps-big-embassy-opening-featured.html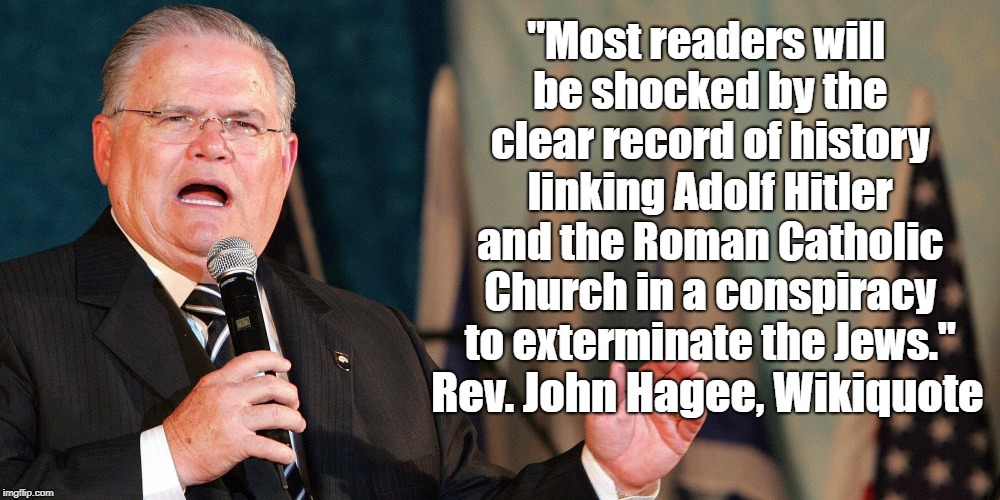 "Half-Breed Jew" Caused Holocaust
Claims Netanyahu Ally John Hagee
John Hagee
Wikiquotes
https://en.wikiquote.org/wiki/John_Hagee
John Hagee
Wikipedia
https://en.wikipedia.org/wiki/John_Hagee
On May 12, 2008, Hagee issued a letter of apology to William Donohue, the president of the Catholic League, expressing regret for "any comments that Catholics have found hurtful."
[35]
He apologized for condemning Catholics for what he viewed was their
persecution of Jews
, and outright stated that he did not believe that, and many other previously held views, any longer.
[35]
He also said that the "great whore" comments were taken out of context and were not directed at the Catholic Church.
[35]
He went on to explain that his comments about the Catholic Church were made "[i]n my zeal to oppose anti-Semitism and bigotry in all its ugly forms. I have often emphasized the darkest chapters in the history of Catholic and Protestant relations with the Jews."
[36]
Donald Trump And The Seven Deadly Sins