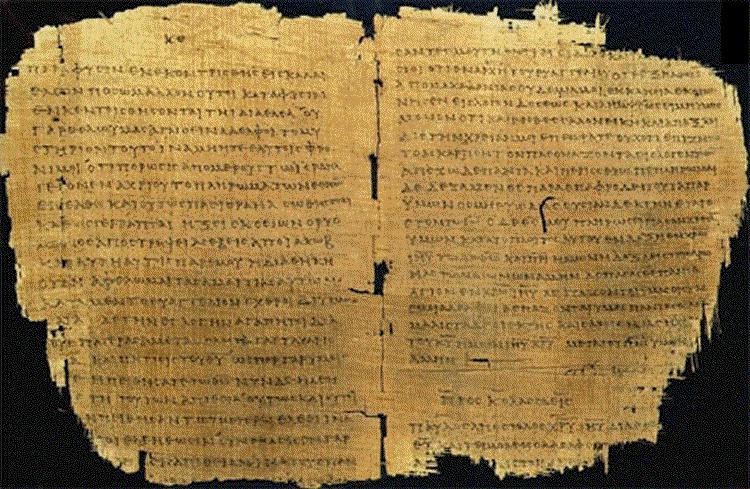 Twenty years ago, while browsing books in Chapel Hill, I stumbled on a paperback that mentioned a particular misattribution in a New Testament text.
The author of that misattribution quoted an Old Testament verse but ascribed it to the wrong author.
Because of this blatant error in the original text, publishers have chosen to correct the misattribution so that the quoted verse now corresponds to the correct author, not to the author specified in the earliest manuscript.
By making this "necessary" correction -- without drawing readers' attention to the error in the original text -- biblical inerrancy may seem a "plausible" belief when, factually, it is not.
There are other provable errors in Scripture.
Mind you, I am tremendously fond of the Bible, particularly the four Gospels.
However, recent passion for biblical "literalism" abuses the meaning of the Bible by falsely claiming that scripture can - and should - be understood "word for word" and in complete accordance with "common sense."
According to the presumptions of biblical "literalists," all that matters is the lexical "surface" of biblical texts.
However, the richest, truest meanings of any ancient text can only emerge when the literal text is contextualized by the findings of history, archaeology, semantics, literary criticism, cultural studies and every other discipline that can "break open" the mere words of scripture so that the text is understood in context.
In the absence of context, text alone is a pretext.
By stonewalling context (a requisite behavior among biblical "literalists") narrow-minded Christians believe they are being faithful to The Word of God by using an interpretative practice that actively misrepresents The Word of God.
The essence-and-meaning of the Magnum Mysterium are "bigger than words" because God is bigger than the constraints of human language.
Any attempt to limit God to the confines of human speech not only denies the unfathomable richness of Incarnation but straightjackets Divinity.
"Literalists" who argue that "God said it. I believe it. That settles it," are, in fact, obfuscationists who belittle The Word of God by not using all the exegetical tools needed to bring the texts to life.
It is fair to say that, in the absence of rich context, biblical texts are "dead documents" that need to be resurrected. If these texts are not resurrected by exegesis, they will lead people into grievous error. (Notably, the Catholic Church once banned lay people from reading certain translations of the bible, even though it approved the "iffy" Vulgate translation as inerrant - http://forums.catholic.com/showthread.php?t=272675)
As a professional translator (Spanish-to-English and English-to-Spanish) it is pellucidly clear that literal translations are grossly inferior translations.
In similar vein, ponder the following declarative sentence: "I did not kill that man."
When you are "certain" you have digested the meaning of this sentence, re-read it six times, each time emphasizing a different word.
"I did not kill that man."
"I did not kill that man."
"I did not kill that man."
"I did not kill that man."
"I did not kill that man."
"I did not kill that man."
Just by changing intonation -- and keep in mind that intonation is never "heard" in the written text alone -- we suddenly confront several qualitatively different meanings, and several shades of meaning to boot.
It is also true that a host of interpretative difficulties arise from the fact that modern language versions of the Bible have been translated from ancient languages, and that translation itself introduces layers of misrepresentation - at least as "true understanding" relates to "literal" interpretation of supposedly inerrant scripture.
Once a text is translated, it no longer says what the original text said. At least not literally...
Consider Nikita Kruschev's famous utterance: "We will bury you."
I once spoke with a Russian interpreter at the United Nations who said Nikita's universally-perceived threat would be more accurately translated as a simple statement of historical inevitability: "We will leave you in the dust."
Misinterpretation arising from literal translation is a thorny problem well known to professional translators - and many "lay people" as well.
Even in everyday speech, the phrase "lost in translation" has currency.
"Literalism" refuses to acknowledge that "something" is always "lost in translation."
And once lost, so too are claims of inerrancy - which is why literalists are so determined to "keep it simple."
The lion's share of what "gets lost in translation" is the historical, literary, linguistic and cultural context without which any literally interpreted text will not only misrepresent the text, but also results in "common sense" "understandings" that may be antithetical to the text's contextualized meaning. (To summarize the gist of this essay: contextualized meaning is richer and truer than non-contextualized "literal" meaning.)
I will close with "a particular."
The conclusion of The Lord's Prayer is rendered in modern English as "Lead us not into temptation."
In modern Spanish, on the other hand, this same verse is translated "No nos dejes caer en tentación," which translated to English reads "Do not let us fall in temptation."
These two "approved" translations - one English, the other Spanish - represent entirely different theologies.
In the English translation, God is viewed as "someone" who might actively lead us into temptation.
On the other hand, the Spanish translation sees God as an ally who, when asked, will help us avoid diabolical snares.
Some Mistakes of Scripture
When the Bible gets the Bible wrong
http://www.ebonmusings.org/atheism/mistakesofscripture.html
As most atheists are well aware, fundamentalist Christians generally treat the Bible as a perfect, self-contained whole: missing nothing, containing no errors, and every word written by the infallible inspiration of God. Naturally, this belief leads them to fight to the bitter end against biology, geology, cosmology, and every other branch of science the findings of which imply that the Bible is not literally true. The ignorance and superstition created by this millennia-long war on human progress are still hobbling us today, so it's no wonder that atheists, skeptics and other freethinkers have strong motivation to oppose the fundamentalist belief in biblical inerrancy.
But it's not necessary to delve into evolution or cosmological physics to accomplish this goal. We don't need to go so far afield to show that Christian claims of inerrancy are false; nor do we need to undertake the Herculean task of trying to explain complex science to religious believers who are determined to reject it. On the contrary, the disproof of their claims is staring them in the face from the pages of their own holy book. The Bible is not the flawless, self-contained whole they imagine it to be: the text convicts itself of this, by repeatedly quoting and referring to other writings, evidently considered in their own day to be just as canonical as the surviving ones, but that are now long lost or have long since been rejected as pious forgeries. Nor were the Bible's authors the inspired, divinely guided saints of Christian myth; on the contrary, they were as fallible and forgetful as any other human being. We can see proof of this in the mistakes they made - mistakes that are preserved in the text as we have it today. Incredibly, these plain and obvious errors of fact have been passed down unchanged through the centuries, surviving many generations of recopying, redacting, and picking and choosing by church fathers and synods.
There are three main categories of textual mistakes in the Bible, and this essay will discuss all three:
Quotes of non-existent passages — when the biblical authors give quotations corresponding to no known writings, or reference books that have long since been lost;
Incorrect quotes of canonical passages — when the biblical authors quote passages that appear elsewhere in the Bible, but garble their quotations, give an incorrect attribution, or get specific details wrong;
and Correct quotes of non-canonical passages — when the biblical authors quote, cite, or otherwise treat as canonical known books that were rejected as untrustworthy by the church councils that assembled the Bible as we have it today.
The majority of these mistakes occur in the New Testament, since those authors were anxious to cite Old Testament prophecy in support of their claims - sometimes anxious enough to be sloppy, as we'll see - whereas the fulfillment of prophecy was less of a concern in OT times. Nevertheless, the Old Testament has problems of its own which will also be discussed here. Each entry listed below will highlight a particular biblical verse, explain what the mistake is, and where applicable, discuss and refute objections raised by apologists. In almost every case, these objections reduce to ignoring the clearest and most rational meaning of the words and insisting that the Bible's authors intended to convey something other than what was written.
As it is written in Isaiah the prophet, "Behold, I am sending my messenger before your face, who shall prepare your way."
Behold, I will send my messenger, and he shall prepare the way before me: and the Lord, whom ye seek, shall suddenly come to his temple, even the messenger of the covenant, whom ye delight in: behold, he shall come, saith the Lord of hosts.
...which implies that Mark, supposed author of a divinely inspired and inerrant gospel, remembered the quote correctly, but made a mistake and attributed it to the wrong prophet. (The next verse, Mark 1:3, is more clearly a quote of Isaiah 40:3, which may explain the confusion - apparently Mark garbled the two prophets together.)
In closing, one thing I find striking is the great lengths to which Christian apologists must go to defend their claim of inerrancy. You would think that a truly inerrant book would stand on its own, needing no complex defense to justify it, with any question or doubt easily defeated by pointing to the explanations in the appropriate verses. Whenever one verse referred to another, the reference would be clear and the connection impossible to doubt. There would always be one obvious answer, and no reason to suggest several merely possible or speculative harmonizations. Instead, when apologists are challenged with these scriptural errors and misquotes, what stands out again and again is how malleable, how rubbery they assume the text can be, and how liberal and creative they are with their interpretations. Just consider some of the tactics discussed in this essay:
Do the gospels refer to a person named X who did Y, when in fact the person named X in the Old Testament isn't the one who did Y? No problem! Just combine these separate elements in one and assume that there was a person named X who did Y - just not the one we've always taken the name X to refer to, but someone else, someone we've never heard of.
Do the gospels introduce an act of Jesus and describe it as fulfilling an Old Testament prophecy, even though no such prophecy exists? No problem! Just assume that the prophets did speak this prophecy, but it was never recorded, and then the Holy Spirit inspired the gospel authors with miraculous knowledge that the prophecy was made! (What good it would do to introduce a previously-unknown prophecy and simultaneously claim its fulfillment is not something that needs to be addressed.)
Do the gospels introduce an act of Jesus and describe it as fulfilling an Old Testament prophecy, even though that particular prophecy was clearly meant to apply to events in the prophet's own lifetime? No problem! Just say that this prophecy had a "dual fulfillment" - one fulfillment in Old Testament days, another in Jesus' lifetime. If any specific details of the original prophecy don't match up, well then, those details obviously weren't part of the dual fulfillment.
Do the gospels or the epistles introduce a teaching with "scripture teaches us that X", even though no other scripture says X? No problem! As long as X can be derived, distilled, inferred, implied, or hinted at in any other verse or set of verses in the Bible, this quote is completely accurate!
And if none of those tactics avail, there are all the other tricks in the apologists' expansive and well-equipped toolbox: retroactively redefine words to something other than their usual meaning; synthesize different accounts of the same event by assuming that each author must have intended to present only part of the story; extrapolate or invent new details freely on the basis that anything not explicitly contradicted by scripture can't be ruled out; assume that a verse which makes a certain claim is accurate if a different but somewhat similar claim is true; invent exceptions to a general rule or principle on the basis that such exceptions would have been "obvious" to the people of the time; and last but not least, that old mainstay: accuse skeptics of being motivated by prejudice and irrational hatred of your religious beliefs.