Alan: Although the above quotation is often ascribed to Christopher Hitchens, it may be apocryphal. In any event, the point is well taken. Abraham of Ur (in present day Iraq) is the founding patriarch of all three Semitic religions: Judaism, Christianity and Islam. Judaism was the earliest religion of the three and, in large part, emerged in opposition to the worship of Moloch, an ancient near-Eastern deity who demanded that children be sacrificed on his altar.
https://en.wikipedia.org/wiki/Moloch
For decades I have wrestled with the story of Abraham and Isaac and can reach no other core conclusion (no matter how lovely and edifying the mythic "sidebars" to the story) than Abraham represented, at least in the beginning, an atavistic throwback to the normalization of human sacrifice. Yahweh may hve nixed this normalization as soon as as Abraham gave it his blessing but what remains central is the insuperable "good" of being prepared to kill your own children for God.
What's Wrong With The Abrahamic Religions: Absolutism, Scriptural Inerrancy, Bloodlust
All 3 Abrahamic Religions Should Be As Ashamed Of Themselves As They Are Now Self-Certain
Abrahamic Religions Must Deal With Their Own Bronze Age Atavism And Not Just Window Dress
Are Highly Religious People Less Compassionate?
Conservative Christians Delight In The Punishment And Pain Of Others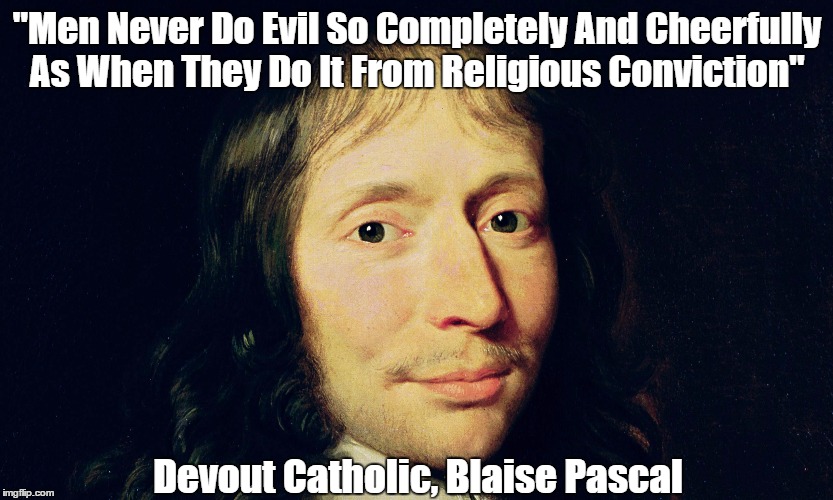 Pope Francis: The Horror Of Religious Fundamentalism And What's Wrong With Religion




Pope Francis On Fundamentalism: The Horror Of Turning God Into Ideological Pretext
James' Epistle: "Judgment Without Mercy Will Be Shown To Anyone Who Has Not Shown Mercy"
Creator of anti-Clinton fake news campaign that swept nation
tells why he did it
ANNAPOLIS, Md.

– It was early fall, and Donald Trump, behind in the polls, seemed to be preparing a rationale in case a winner like him somehow managed to lose. "I'm afraid the election is going to be rigged, I have to be honest," the Republican nominee told a riled-up crowd in Columbus, Ohio. He was hearing "more and more" about evidence of rigging, he added, leaving the details to his supporters' imagination.
A few weeks later, Cameron Harris, a new college graduate with a fervent interest in Maryland Republican politics and a need for cash, sat down at the kitchen table in his apartment to fill in the details Trump had left out. In a dubious cyberart just coming into its prime, this bogus story would be his masterpiece.
Harris started by crafting the headline: "BREAKING: 'Tens of thousands' of fraudulent Clinton votes found in Ohio warehouse." It made sense, he figured, to locate this shocking discovery in the very city and state where Trump had highlighted his "rigged" meme.
"I had a theory when I sat down to write it," recalled Harris, a 23-year-old former college quarterback and fraternity leader. "Given the severe distrust of the media among Trump supporters, anything that parroted Trump's talking points people would click. Trump was saying 'rigged election, rigged election.' People were predisposed to believe Hillary Clinton could not win except by cheating."
In a raucous election year defined by made-up stories, Harris was a homegrown, self-taught practitioner, a boutique operator with no ties to Russian spy agencies or Macedonian fabrication factories. As Trump takes office this week, the beneficiary of at least a modest electoral boost from a flood of fakery, Harris and his ersatz-news website, ChristianTimesNewspaper.com, make for an illuminating tale.
Alan: Notably, Mr. Harris "knew" -- as all intellectually rigorous liberals know -- that "Christian" "conservatives" would buy any bogosity sold them under aegis of being Christian Times Newspaper.

As a group, "Christian" "conservatives" need no more proof of veracity than to "learn" that their news is brought to them by a source containing some reference to the magically salvific name of Jesus or Christ.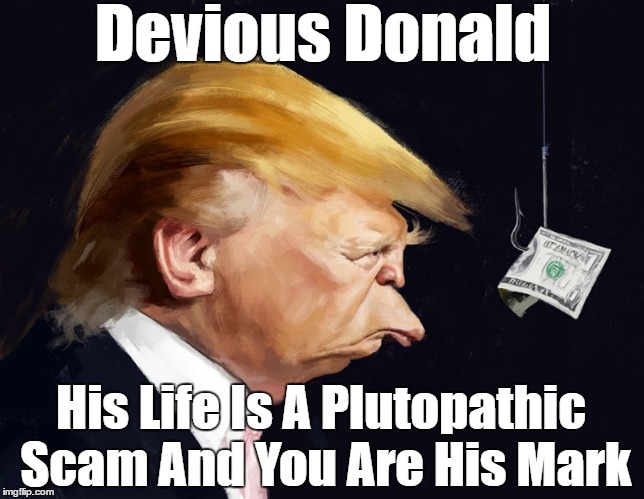 And, he "eats the cracker!"
Contacted by a reporter who had discovered an electronic clue that revealed his secret authorship of ChristianTimesNewspaper.com, he was wary at first, chagrined to be unmasked.
"This topic is rather sensitive," Harris said, noting that he was trying to build a political consulting business and needed to protect his reputation. But eventually he agreed to tell the story of his foray into fake news, a very part-time gig that he calculated paid him about $1,000 an hour in web advertising revenue. He seemed to regard his experience with a combination of guilt about having spread falsehoods and pride at doing it so skillfully.
At his kitchen table that night in September, Harris wondered: Who might have found these fraudulent Clinton ballots? So he invented "Randall Prince, a Columbus-area electrical worker." This Everyman, a "Trump supporter" whose name hinted at a sort of nobility, had entered a little-used backroom at the warehouse and stumbled upon stacked boxes of ballots pre-marked for Clinton, Harris decided.
"No one really goes in this building. It's mainly used for short-term storage by a commercial plumber," Prince said.
In case anyone missed the significance of the find, Harris made it plain: "What he found could allegedly be evidence of a massive operation designed to deliver Clinton the crucial swing state."
A photograph, he thought, would help erase doubts about his yarn. With a quick Google image search for "ballot boxes," he landed on a shot of a balding fellow standing behind black plastic boxes that helpfully had "Ballot Box" labels.
It was a photo from the Birmingham Mail, showing a British election 3,700 miles from Columbus — but no matter. In the caption, the balding Briton got a new name: "Mr. Prince, shown here, poses with his find, as election officials investigate."
The article explained that "the Clinton campaign's likely goal was to slip the fake ballot boxes in with the real ballot boxes when they went to official election judges on November 8th." Then Harris added a touch of breathlessness.
"This story is still developing," he wrote, "and CTN will bring you more when we have it."
He pushed the button and the story was launched on Sept. 30, blazing across the web like some kind of counterfeit comet. "Even before I posted it, I knew it would take off," Harris recalled.
He was correct. The ballot box story, promoted by a half-dozen Facebook pages Harris had created for the purpose, flew around the web, fueled by indignant comments from people who were certain that Clinton was going to cheat Trump of victory and who welcomed the proof. It was eventually shared with 6 million people, according to CrowdTangle, which tracks web audiences.
The next day, the Franklin County, Ohio, board of elections announced that it was investigating and that the fraud claims appeared to be untrue. Within days, Ohio's secretary of state, Jon Husted, issued a statement to deny the story.
"A Christian myself, I take offense to reading such unbelievable lies from a publication alleging Christian ties," Husted said.
There was nothing especially Christian about his efforts, Harris admits; he had simply bought the abandoned web address for $5 at ExpiredDomains.net. Within a few days, the story, which had taken him 15 minutes to concoct, had earned him about $5,000. That was a sizable share of the $22,000 an accounting statement shows he made during the presidential campaign from ads for shoes, hair gel and web design that Google had placed on his site.
He had put in perhaps half an hour a week on the fake news site, he said, for a total of about 20 hours. He would come close to a far bigger payday, one that might have turned the $5 he had spent on the Christian Times domain into more than $100,000.
The money, not the politics, was the point, he insisted. He had graduated from Davidson College in North Carolina in May, and he needed to pay his living expenses. "I spent the money on student loans, car payments and rent," he said.
By the time he launched his fraudulent story on ballot fraud, he had found minimal success with "Hillary Clinton Blames Racism for Cincinnati Gorilla's Death," a reference to the sad tale of Harambe, the gorilla shot after he grabbed a little boy visiting the zoo. He had done better with "Early Morning Explosion in DC Allegedly Leaves Yet Another DNC Staffer Dead," spinning off conspiracy theories around the earlier shooting death of a Democratic National Committee staff member.
Later, he would tell gullible readers "NYPD Looking to Press Charges Against Bill Clinton for Underage Sex Ring," "Protesters Beat Homeless Veteran to Death in Philadelphia" and "Hillary Clinton Files for Divorce in New York Courts." Eight of his stories would merit explicit debunking by Snopes.com, the myth-busting site, but none would top the performance of the ballot box fantasy.
President Obama thought the fake news phenomenon significant enough to mention it as a threat to democracy in his farewell speech in Chicago last week. "Increasingly," he said, "we become so secure in our bubbles that we start accepting only information, whether it's true or not, that fits our opinions, instead of basing our opinions on the evidence that is out there."
That was exactly the insight on which Harris said he built his transient business: that people wanted to be fed evidence, however implausible, to support their beliefs. "At first it kind of shocked me — the response I was getting," he said. "How easily people would believe it. It was almost like a sociological experiment," added Harris, who majored in political science and economics.
By his account, though he voted for Trump, his early preference had been for Sen. Marco Rubio. Harris said he would have been willing to promote Clinton and smear Trump had those tactics been lucrative. But as other seekers of clicks discovered, Trump's supporters were far more fervent than Clinton's.
Alan: I take "fervent" to mean that Trump supporters are more inclined to first "fall for" -- and then vaunt -- falsehood.
Trump himself has told so many lies in recent years, in addition to ceaseless flip-flopping (sometimes within the same speech!) that his supporters can choose whatever position they want to see in Trump because - at one time or another - he has expressed nearly every view on the political spectrum.
This diabolical facility for falsehood -- and the eagerness with which "Christian" "conservatives" suck it up -- is something "new under the sun."
And if it is not curtailed soon, there will be NO meaning left in Jesus' self-identification as "The Way, The Truth and The Life."
VIDEO: Trump Tells More Lies Than Any U.S. Politician. Why Do "Patriots" And "Christians" Believe A Liar
People Want To Be Lied To: The Convergent Horror Of Faithful Falsehood And Aggressive Ignorance
Watch: CNN Spent Ten Straight Minutes Tearing Down Trump's Lies
Who Lies Most? A Pants-On-Fire Comparison Of America's 20 Best Known Politicians
Keith Olbermann's 176 Reasons Trump Shouldn't Be President
(Yes, It's All Here And Worth Hearing In One Relentless Torrent)
In late October, with the inevitable end of his venture approaching, Harris sought an appraisal for the web domain that by then had vaulted into the web's top 20,000 sites. An appraiser said that given the traffic, he could probably sell it for between $115,000 and $125,000.
But Harris made a costly mistake: He decided to wait. Days after the election, denounced for making the peddling of fake news remunerative, Google announced that it would no longer place ads on sites promoting clearly fabricated stories.
A few days later, when Harris checked his site, the ads were gone. He checked with the appraiser and was told that the domain was now essentially worthless.
All was not lost, however. He had put a pop-up on the site inviting visitors to "join the 'Stop the Steal' team to find out HOW Hillary plans to steal the election and what YOU can do to stop her!" and collected 24,000 e-mail addresses. He has not yet decided what to do with them, he said.
Asked whether he felt any guilt at having spread lies about a presidential candidate, Harris grew thoughtful. But he took refuge in the notion that politics is by its nature replete with exaggerations, half-truths and outright whoppers, so he was hardly adding much to the sum total.
"Hardly anything a campaign or a candidate says is completely true," he said.
Lately he has picked up Trump's refrain that mainstream news organizations are themselves regular purveyors of fake news. Last week, when BuzzFeed released what it called an "explosive but unverified" dossier suggesting that Russia had planned to bribe and blackmail Trump, Harris wrote on Twitter: "Explosive but unverified" — "That could describe every fake news headline ever."
He did not mention his own expertise in the field.
What's Wrong With The Abrahamic Religions: Absolutism, Scriptural Inerrancy, Bloodlust
"Is The Bible More Violent Than The Quran?"

"God Enjoys The 10 Plagues Way Too Much"
ISIS And The Inquisition: The Shadow Side Of Religion. Why Does Belief Do This?

"What ISIS Really Wants" And How The Patriarch Abraham Appears To Be The Instigator
Christianity's Bedrock Commitment To Torture: Remaking "The Faithful" In God's Image


Seldom Sermonized Bible Quotes

UNC-CH Professor Bart D. Ehrman:

Biblical Exegete And Former Christian Evangelical

The Bible and Textual Analysis
"Trial By Ordeal: The Bloody Old Testamental Roots Of Modern Justice"
"Trial By Ordeal: Alive And Well Into The 17th Century"
Biblical Literalism: Not Only Impossible But Destructive Of Meaning And Souls