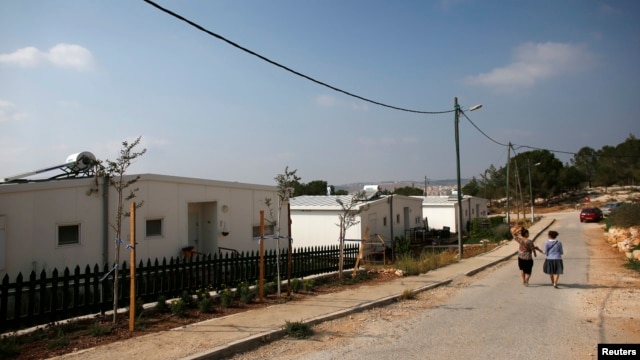 Israeli women walk in a Jewish settlement known as "Gevaot" - in the Etzion settlement bloc - near Bethlehem, Aug. 31, 2014
Israel says it is appropriating 400 hectares of Palestinian land in the occupied West Bank, possibly one of the biggest property takeovers for the Jewish state in decades.
The Israeli military said it is declaring the land "state-owned" on orders from the country's political leaders, in response to the June killing of three Israeli teenagers who were kidnapped from a roadside near Bethlehem, in the southern area of the West Bank. Israel has named three Palestinians from Hebron as the suspects in the killings that helped ignite the 50-day war with Hamas militants who control the Palestinian enclave of Gaza.
The fighting was halted last week with an open-ended cease-fire, but the land appropriation drew an immediate rebuke from chief Palestinian negotiator Saeb Erakat. He called for diplomatic action against Israel, which he said is "committing various crimes against the Palestinian people and their occupied land."
Israel could create a new city called Gevaot on the land. A current settlement there has only 10 families.
A spokesman for the anti-settlement group Peace Now, Yariv Oppenheimer, said the settlement expansion will hurt the chances for further Israeli peace negotiations with Palestinian President Mahmoud Abbas.
"This new declaration of expansion of settlement by the Israeli government is very significant. We don't remember such a big announcement in the last one or two decades," said Oppenheimer. "This is a stab in the back of Abbas and the moderate people in the Palestinian Authority. Instead of strengthening the Palestinian Authority versus Hamas, Israel is showing its harder side and actually in a unilateral move: expand settlement activity and destroy the chance for re-negotiation with the Palestinian Authority.''
Israeli Prime Minister Benjamin Netanyahu has been a staunch advocate for expansion of Israeli settlements in the West Bank, land that Israel captured during the Six-Day War in 1967. Israel often has drawn condemnation, though, for its settlement expansion, which most countries consider illegal under international law.
About 550,000 Israelis live among 2.4 million Palestinians in the West Bank and occupied east Jerusalem.