"Back in February, in his annual message to shareholders in his company Berkshire Hathaway, Warren Buffett said this: 'Who has ever benefited during the past 237 years by betting against America? ... America's best years lie ahead.' You can expect these words to be thrown back in Buffett's face this week (as we're doing), as word spreads of his investment....But it's worthwhile to take a closer look at Buffett's involvement, and about his opinion of corporate taxation — indeed, of taxes in general. Here's a spoiler: He doesn't think U.S. corporate taxes are too high, and he's not really in favor of the inversion loophole."
Michael Hiltzik in the Los Angeles Times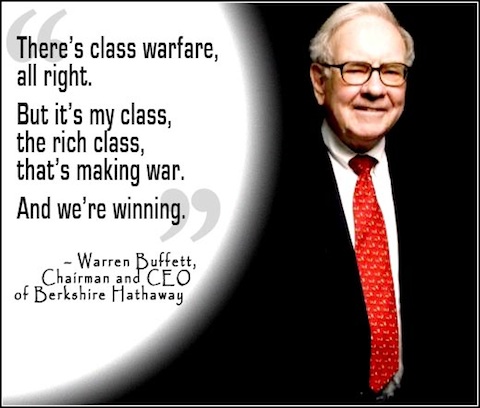 G.K. Chesterton And Warren Buffett's Class War
"Warren Buffett and Bernie Sanders: The 1% War On The Middle Class"
Warren
Buffett On Taxes, Job Creation, The Coddled Money Class And Shared Sacrifice