Alan: Increasingly, the only plausible explanation for Trump's victory -- and subsequent behavior as "president" -- is that he made a pact with Satan.
Of course, this is not literally true but it is false news that should "go viral" among "Christian" "conservatives."
I will also mention that Hillary's trouncing of Donald Trump in the popular vote supples every American with the "alternative fact" that Ms. Clinton is the true president of the United States.
In the "Trump-Conway Universe," why not?
Post-truth, ANYTHING goes.
Conway: Trump White House Offered "Alternative Facts" On Crowd Size
With False Claims, Donald Trump Attacks Media On Crowd Turnout
http://paxonbothhouses.blogspot.com/2017/01/with-false-claims-donald-trump-attacks.html
Best Photographic Evidence Of Trump Inaugural Crowd Size: From Stage & From Monument
Day 2 Of Trump Presidency & Press Secretary Tells Egregious Bald-Faced Lie For Liar-In-Chief
"Alternative Facts" & Moral Rot: Team Trump Tells Brazen Lies Hoping Supporters Are Stupid
The Borowitz Report: "Disturbed Man Gets Past White House Security"... And Other Great Shticks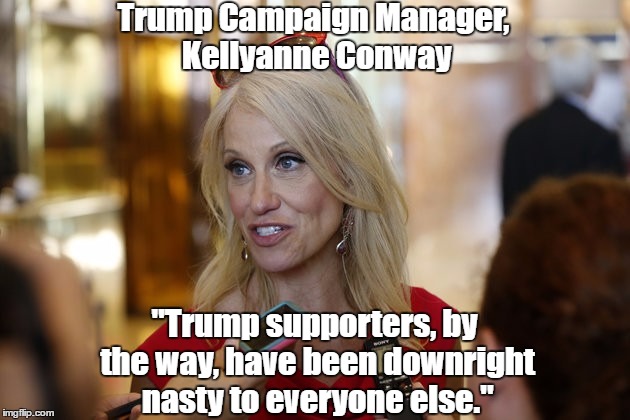 Trump's Campaign Manager, Kellyanne Conway Admits
That Donald's Supporters Are "Downright Nasty" And "Skeeze"