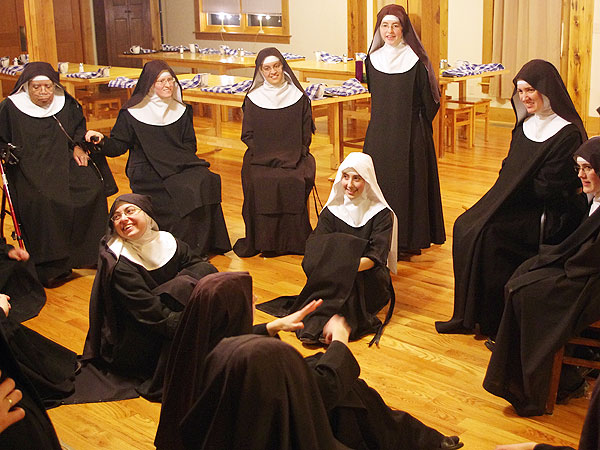 The Benedictines of Mary, Queen of Apostles, a secluded group of nuns living in the farmlands north of Kansas City,
have become the unlikely rock stars of traditional classical music.

CBS "Sunday Morning"
Documentary
Solemn Profession of Benedictines
Benedictines Of Mary, Queen Of Apostles
Website
Benedictines Of Mary, Queen Of Apostles
Wikpedia
Mother Cecilia
Ora et Canta
Benedictines of Mary, Queen of Apostles
"We live a monastic life." ­Mother Cecilia, Prioress of Benedictines of Mary
The community of the Benedictines of Mary, Queen of Apostles, was founded in 1995, originally called the Oblates of Mary, Queen of Apostles.
In 2006, the community was established as a Public Association of the Faithful with the new name Benedictines of Mary, Queen of Apostles.
The Benedictines of Mary offer their lives in prayer and sacrifice for priests. The work of their hands is devoted primarily to the making of priestly vestments.
They also take care of gardens, an orchard and a small farm.
They paint gorgeous icons and live an artistic lifestyle based upon their religious vows.
Leaving behind their families, bank accounts, and all of their possessions, these women live together in community following closely The Benedictine Rule of life known as "ora et labora" (work and pray).
The Sisters are young, contemplative and extremely musical.
They do not set foot beyond their Northwest rolling farmland, focusing solely on living an austere, yet joyful life set apart from the world.
Working on their farm and mostly living off the land, they sing together eight times a day as part of their daily monastic schedule of Vespers and Divine Office, lifting their hearts to God through music.
The Priory of Our Lady of Ephesus is named for an ancient city in Asia Minor (now Turkey).
It is well known for St. Paul's presence there. According to tradition, St. John the Apostle made a home there following the martyrdom of St. James the Apostle.
Tradition further acknowledges that, on the Cross, Jesus entrusted His mother to the care of St. John, while at the same time entrusting the whole world to her in the person of St. John. He brought her to Ephesus where he built her a small home. Her presence there is confirmed by the fact that at the time of the Council of Ephesus, churches were named after saints who had lived or died in the locale.
Today, the ruins of basilicas to Holy Mary and St. John still stand in Ephesus.
The order's Prioress, Mother Cecilia, having grown up in a musical family, is a graduate of the Shepherd School of Music at Rice and vacated her seat in the horn section with the Columbus Symphony Orchestra in Ohio where she performed for three years before surprising peers in the classical music industry by entering religious life.
In addition to providing classical training to the other sisters, she sings, conducts and has arranged the songs on their recordings, as well as co­writing original compositions that appear on the albums.
In a providential turn of events, executive music industry veterans Monica (DreamWorks/SKG) and Kevin (Columbia/SONY Music) Fitzgibbons discovered the extraordinary music of the Benedictines through a sampling of their music given to a benefactor.
The two, instantly drawn to their beauty, arranged to have the Sisters professionally recorded with Grammy Award winning producers after having landed a global distribution deal with top prestigious classical Decca/Universal Music Classics label.
Their official release was the seasonal recording, ADVENT AT EPHESUS. The Sisters quickly followed up with ANGELS AND SAINTS AT EPHESUS, recorded by nine­time Grammy award winning producer, Christopher Alder who traveled to their priory from Germany (braving a record breaking blizzard in order to make the record).
Alder had high praise for the Benedictines stating "I had heard their music and was convinced that I would enjoy recording them, which turned out to be the case. The main feeling from listening to them is basically the belief in the thoughts that are being expressed in the text and a familiarity and a love of the style of the music."
The Sisters' two recordings with De Montfort/Decca have both become unexpected and rather unusual success stories. The Missouri­based contemplative nuns were named Billboard magazine's Classical Traditional Artist of 2012 and 2013 – two consecutive years straight.
It's the first order of nuns to ever win an award in the history of Billboard magazine. The Sisters were recognized for their two bestselling albums, ANGELS AND SAINTS AT EPHESUS, which spent 13 consecutive weeks at No. 1 on Billboard's Classical Traditional Music chart, and ADVENT AT EPHESUS, which spent six consecutive weeks at No. 1 on the same chart, besting popular artists including Andrea Bocelli and Sarah Brightman among others.
The critically acclaimed Benedictines of Mary, have received accolades from The Wall Street Journal, USA Today, NPR, ABC's Good Morning America and beyond. Their third and latest release, another seasonal recording entitled LENT AT EPHESUS. This compilation of poignant chants, intricate harmonies and rousing hymns of glory and redemption includes: "O Sacred Head Surrounded," made famous by Bach's oratorios, "All Glory Laud and Honor," the well known "Adoramus Te Christe" and the entrancing "Improperia" from the liturgy of Good Friday. Three original pieces are also featured among the generous 23 tracks.
The vibrant purity of their monastic sound peacefully escorts the listener through the penitential season of Lent. LENT AT EPHESUS was produced by Grammy Award winning classical producer Blanton Alspaugh who famously said of his experience recording the Sisters; "Their singing has a very pure and yet sophisticated style. It certainly earns its place in the international arena of classical music. Their talent is as remarkable as their sense of charity. To record them at their priory was one of the highlights of my career."
Monica Fitzgibbons Co­founder of De Montfort Music added; "To think of Mother Cecilia and her accomplished background in classical music, one imagines she would have had an extensive library of recordings released on Decca. Then unequivocally she left behind all of her musical accomplishments and entered into a monastic community. With so many highlights of the music of the Benedictines, one miracle worth noting is that Mother Cecilia, without any plans to do so, has released chart­topping music on Decca/Universal Classics. All of this done without sacrificing the rule of life or stepping beyond the priory, and yet it is all part of an amazing story which holds it's own against the backdrop of some of the most beautiful music of our times."
This biography was provided by the artist or their representative.