"The Moral Integrity Of Costco Founder And CEO, James Singeal"
http://paxonbothhouses.blogspot.com/2014/01/the-moral-integrity-of-costcos-founder.html
Jim Sinegal Addresses 2012 Democratic National Convention
https://www.youtube.com/watch?v=CBqQ_cVUZ5Q
Two Corporate Cultures: Costco And Walmart Compared
http://paxonbothhouses.blogspot.com/2013/07/two-corporate-cultures-walmart-compared.html
What follows is the enhancement of a 2012 post.
Alan: Not surprisingly, The Tea Party - a second rate political organization - wants "second best" in every domain, including "responsible capitalism."

Go ahead.

You want second best.

You deserve second best.

Costco - whose political donations go exclusively to the Democratic Party - is the best retailer in America.
... Some Wall Street analysts assert that CEO Jim Sinegal is overly generous not only to Costco's customers but to its workers as well.
Costco's average pay, for example, is $17 an hour, 42 percent higher than its fiercest rival, Sam's Club. And Costco's health plan makes those at many other retailers look Scroogish. One analyst, Bill Dreher of Deutsche Bank, complained last year that at Costco "it's better to be an employee or a customer than a shareholder."
Mr. Sinegal begs to differ. ...Good wages and benefits are why Costco has extremely low rates of turnover and theft by employees, he said. And Costco's customers, who are more affluent than other warehouse store shoppers, stay loyal because they like that low prices do not come at the workers' expense. "This is not altruistic," he said. "This is good business."
...Costco's stock price has risen more than 10 percent in the last 12 months, while Wal-Mart's has slipped 5 percent. Costco shares sell for almost 23 times expected earnings; at Wal-Mart the multiple is about 19. Mr. Dreher said Costco's share price was so high because so many people love the company. "It's a cult stock," he said.

(Excerpt) Read more at

nytimes.com

...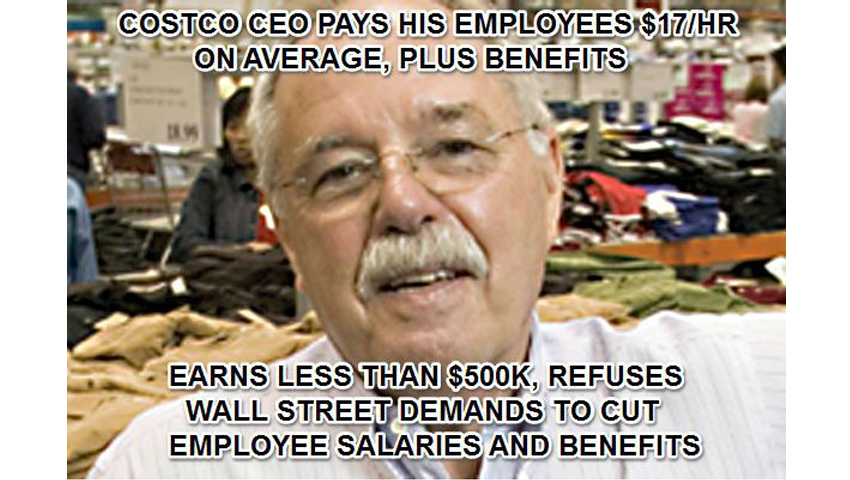 Sinegal's "destruction of initiative" is on display at "People of Walmart"
Imagine an American capitalist who pays every worker a living wage and thrives as a result.
Either "Republican retailers" are not profitable enough to pay their workers a living wage, or they prefer to pocket a disproportionate percentage of profits while obliging many workers to hold down two jobs.
"Stop Giving Your Money To The Enemy"
The Tea Party
Since The Tea Party's policy of "No New Taxes" wreaks economic and fiscal havoc, it is appropriate that the party that does not want what is best for country settles for second best in its shopping habits.
Behind The Mask, The GOP's True Face: Ayn Rand's Ideological Acolyte Paul Ryan Promotes Her Central Belief That Altruism Is Evil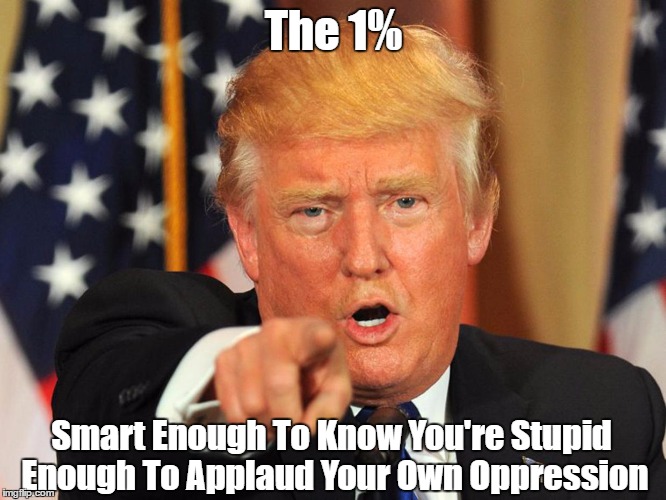 Compendium Of Best Pax Posts: Plutocracy, Economic Inequality & Collapse Of Conservatism
"Politics And Economics: The 101 Courses You Wish You Had"
Pope Francis: Quotations On Finance, Economics, Capitalism And Inequality




Teddy Roosevelt: "Malefactors Of Great Wealth... Are Curses To The Country"




Why Are Americans So Poorly Paid. This One Chart Will Even Shame The 1%
Inequality: Joseph Stiglitz Brilliant Reflection On Obama's State Of The Union Address
"Of The 1%, By The 1%, For The 1%,"

Nobel Laureate Joseph Stiglitz




It's Not About Income. "It's About Net Worth, Stupid!"