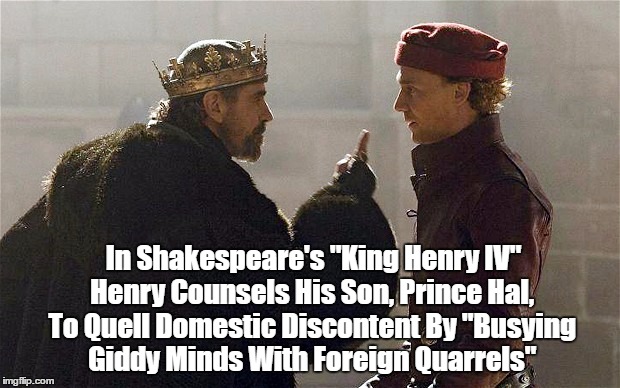 The White House Is Reportedly Considering A Pre-Emptive Military Strike Against North Korea
http://theweek.com/speedreads/683369/white-house-reportedly-considering-preemptive-military-strike-against-north-korea
Trump Will Go Full-Throttle Fascist Following The First Major Terror Attack.
Putin Knows This. (He Also Knows How To Hack The United States.)
In Shakespeare's Henry IV, the dying king confesses to his son, Prince Hal/Harry (who will inherit the throne) that his foreign war in the Holy Land has been completely unnecessary and has been carried out for a particular political purpose: to increase and concentrate power, and to silence his critics.
Henry's advice to his son is that he too should "busy giddy minds with foreign quarrels."
God put it in thy mind to take it hence,
That thou mightst win the more thy father's love,
Pleading so wisely in excuse of it!
Come hither, Harry, sit thou by my bed;
And hear, I think, the very latest counsel
That ever I shall breathe. God knows, my son,
By what by-paths and indirect crook'd ways
I met this crown; and I myself know well
How troublesome it sat upon my head.
To thee it shall descend with bitter quiet,
Better opinion, better confirmation;
For all the soil of the achievement goes
With me into the earth. It seem'd in me
But as an honour snatch'd with boisterous hand,
And I had many living to upbraid
My gain of it by their assistances;
Which daily grew to quarrel and to bloodshed,
Wounding supposed peace: all these bold fears
Thou see'st with peril I have answered;
For all my reign hath been but as a scene
Acting that argument: and now my death
Changes the mode; for what in me was purchased,
Falls upon thee in a more fairer sort;
So thou the garland wear'st successively.
Yet, though thou stand'st more sure than I could do,
Thou art not firm enough, since griefs are green;
And all my friends, which thou must make thy friends,
Have but their stings and teeth newly ta'en out;
By whose fell working I was first advanced
And by whose power I well might lodge a fear
To be again displaced: which to avoid,
I cut them off; and had a purpose now
To lead out many to the Holy Land,
Lest rest and lying still might make them look
Too near unto my state. Therefore, my Harry,
Be it thy course to busy giddy minds
With foreign quarrels; that action, hence borne out,
May waste the memory of the former days.
More would I, but my lungs are wasted so
That strength of speech is utterly denied me.
How I came by the crown, O God forgive;
And grant it may with thee in true peace live!
"I have the greatest admiration for your propaganda. Propaganda in the West is carried out by experts who have had the best training in the world -- in the field of advertising -- and have mastered the techniques with exceptional proficiency ... Yours are subtle and persuasive; ours are crude and obvious ... I think that the fundamental difference between our worlds, with respect to propaganda, is quite simple. You tend to believe yours ... and we tend to disbelieve ours." Soviet correspondent based five years in the U.S.
"Not only do rulers keep many millions of men whose only trade is war, but these must be supported in worse than useless idleness by the labor of the poor. Still other millions are trained to war and are ever ready to answer to their master's call, to desert their homes and trades and offer up their lives to satisfy the vain ambitions of the ruler of the state. Millions more must give their strength and lives to build forts and ships, make guns and cannon and all the modern implements of war. Apart from any moral question of the right of man to slay his fellow man, all this great burden rests upon the poor. The vast expense of war comes from the production of the land and must serve to weaken and impair its industrial strength." Clarence Darrow, Resist Not Evil
By means of shrewd lies, unremittingly repeated, it is possible to make people believe that heaven is hell - and hell heaven...The great masses of people will more easily fall victim to a big lie than to a small one." Adolf Hitler
"Why of course the people don't want war... Why would some poor slob on a farm want to risk his life in a war when the best he can get out of it is to come back to his farm in one piece? Naturally the common people don't want war; neither in Russia, nor in England, nor in America, nor for that matter in Germany. That is understood. But after all it is the leaders of the country who determine the policy, and it is always a simple matter to drag the people along, whether it is a democracy or a fascist dictatorship, or a parliament, or a communist dictatorship.... Voice or no voice, the people can always be brought along to do the bidding of the leaders. That is easy. All you have to do is to tell them they are being attacked, and denounce the pacifists for lack of patriotism and exposing the country to danger. It works the same in any country." Hermann Goering, Adolf Hitler's Deputy Chief and Luftwaffe Commander, at the Nuremberg trials, 1946.
"All this was inspired by the principle - which is quite true in itself - that in the big lie there is always a certain force of credibility; because the broad masses of a nation are always more easily corrupted in the deeper strata of their emotional nature than consciously or voluntarily; and thus in the primitive simplicity of their minds they more readily fall victims to the big lie than the small lie, since they themselves often tell small lies in little matters but would be ashamed to resort to large-scale falsehoods. It would never come into their heads to fabricate colossal untruths, and they would not believe that others could have the impudence to distort the truth so infamously. Mein Kampf, Hitler
The loud little handful--as usual--will shout for the war. The pulpit will--warily and cautiously--object--at first; the great, big, dull bulk of the nation will rub its sleepy eyes and try to make out why there should be a war, and will say, earnestly and indignantly, 'It is unjust and dishonorable, and there is no necessity for it.'
Then the handful will shout louder. A few fair men on the other side will argue and reason against the war with speech and pen, and at first will have a hearing and be applauded; but it will not last long; those others will out-shout them, and presently the anti-war audiences will thin out and lose popularity.
Before long you will see this curious thing: the speakers stoned from the platform, and free speech strangled by hordes of furious men who in their secret hearts are still at one with those stoned speakers--as earlier--but do not dare to say so. And now the whole nation--pulpit and all--will take up the war-cry, and shout itself hoarse, and mob any honest man who ventures to open his mouth; and presently such mouths will cease to open.
Next the statesmen will invent cheap lies, putting the blame upon the nation that is attacked, and every man will be glad of those conscience-soothing falsities, and will diligently study them, and refuse to examine any refutations of them; and thus he will by and by convince himself that the war is just, and will thank God for the better sleep he enjoys after this process of grotesque self-deception. Mark Twain, "The Mysterious Stranger," 1910
"Whether the mask is labeled Fascism, Democracy, or Dictatorship of the Proletariat, our great adversary remains the Apparatus, the bureaucracy, the police, the military. Not the one facing us across the frontier or the battle lines, which is not so much our enemy as our brother's enemy, but the one that calls itself our protector and makes us its slaves. No matter what the circumstances, the worst betrayal will always be to subordinate ourselves to this Apparatus, and to trample underfoot, in its service, all human values in ourselves and in others." Simone Weil, Politics, Spring 1945
"The great error of nearly all studies of war, an error into which all socialists have fallen, has been to consider war as an episode in foreign politics when it is especially an act of internal politics and the most atrocious act of all . . . Since the directing apparatus hqs no other way of fighting the enemy than by sending its own soldiers, under compulsion, to their deaththe war of one state against another state resolves itself into a war of the state and the military apparatus against its own people." Simone Weil, Politics, 1945
"The greatest crime since World War II has been U.S. foreign policy." Ramsey Clark, U.S. Attorney General, Carter Administration
"The crimes of the U.S. throughout the world have been systematic, constant, clinical, remorseless, and fully documented but nobody talks about them." Harold Pinter
The Age-Old Normalization Of Warfare Through Stupidity, Ego And Religion
"Do War's Really Defend America's Freedom?"

(Homage To Marine Commandant, Major General Smedley Butler)




Scare The Sheep

And They Will Applaud Military-Industrial Profiteering
Republican Lawmaker From Nevada Sends Christmas Card Featuring Fully Armed Family
"Whom The Gods Would Destroy, They First Make Mad"
The Mistaken Concept That Reducing Cultures To Rubble Results In Peace