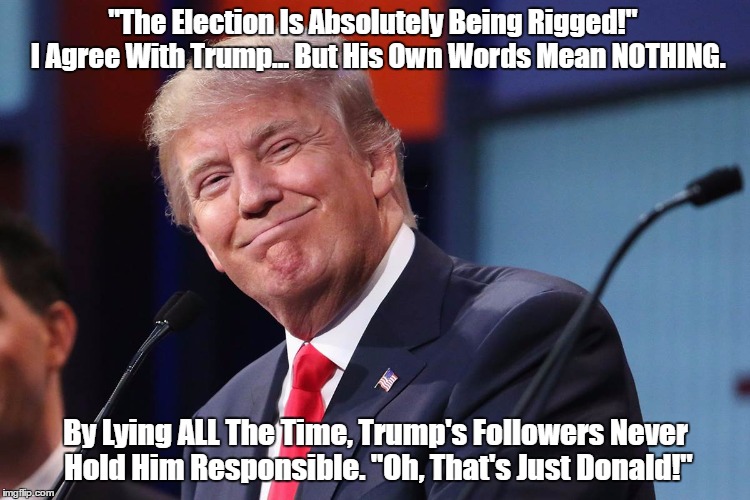 Trump's initial burst of executive orders -- giving the impression he's powerful and "getting things done" -- is starting to morph into its opposite, provoking blowback for being stupid, alienating and counterproductive.
He's also starting to look weak, ineffectual and wacky.
The recent federal court order staying his religion-based "immigration blockade" (an egregious breach of the 1st Amendment) promises to be "the beginning of the end."
Bombast, bluster and bigotry are not enough to "get the job done," particularly when the job is to represent a democracy whose culture (such as it is) was built up over 250 years.
Yesterday, on Chapel Hill's NPR affiliate (WUNC), I heard a North Carolina congressman state, as if it were matter-of-fact, that Obamacare will NOT be repealed but "repaired."
It's Starting To Look Like Republicans Won't Repeal Obamacare:
"Repair" Is The New Watchword.
Nor is The Despicable One building The Wall.
After all, "D.J. Barnum" knows the value of showmanship and the inter-related gullibillity of his suckers.
But after a few high-profile breaches -- tunneling under The Wall, blasting through it or climbing over it -- Americans, in the main, will see the laughability of this money-wasting, ugly, ineffective project.
Consider this related post:
Then there's Trump's plutocratic meddling with Dodd-Frank, actually "ordering" bankers to prioritize profiteering over your best interest.
Trump Rolls Back Dodd-Frank: Consumers Must Drop Trou And Clasp Ankles
And finally, as you observe, Trump has even alienated the Koch brothers, prompting their public reprimand: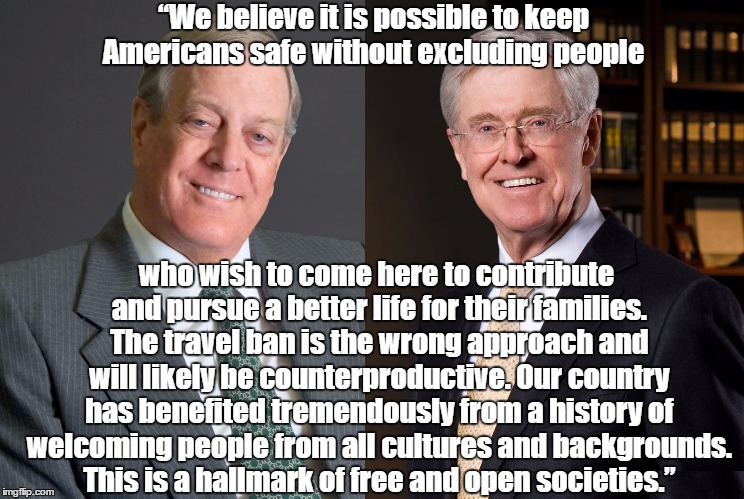 Paz contigo,
On Sun, Feb 5, 2017 at 12:39 AM, EM wrote:
C O N G R A T S !




... and I never thought I would see my sentiments aligned with Charles Koch, but the current Time Magazine (February 13th 2017) p.31, indicates his efforts (voiced "before 550 like-minded donors") to fight Trump "where they think he is wrong", including his 1) plans for new border taxes, 2) his recent ban on refugees and immigrants from some muslim-majority countries, and 3) his proposal to rebuild "bridges, tunnels and airports with a red ink." Hmmmmm ... interesting.