Thousands sign petition to reinstate Idaho cafeteria worker
Idaho Statesman
Story garners international media attention - 70,000 and counting sign petition
Fired for giving away a $1.70 lunch
Says she'd do it again if she had to
A petition seeking reinstatement for a Pocatello schools food service worker fired for giving away a free hot lunch to a hungry 12-year-old had gained more than 70,000 signatures Wednesday night from supporters all over the world.
A check of the petition site Wednesday evening measured new signatures coming in at a rate of thousand per hour.
Meanwhile, Dalene Bowden, who was put on unpaid leave Tuesday for giving a student with no money a pass on a $1.70 lunch bill at the Irving Middle School, said she would do it again if she had to.
"I love my job, I really do," Bowden told the Idaho State Journal. "This just breaks my heart, and I was in the wrong, but what do you do when the kid tells you that they're hungry, and they don't have any money? I handed her the tray."
Bowden has worked for the Pocatello/Chubbuck School District 25 for three years. She has now received a registered letter from the district informing her that she has been fired. for theft of school district property and inaccurate transactions when ordering, receiving and serving food.
Bowden has said she would seek legal counsel.
The district's interim superintendent, Douglas Howell, has declined to discuss Bowden's firing, citing personnel confidentiality, but said the district "didn't take a meal away from a child."
District students are allowed to charge up to $11 in the lunch room. Parents are notified when the lunch tab reaches the limit. But even when it does, students are provided something to eat, a district spokeswoman said.
The petition calling for Bowden's reinstatement was started by Pocatello resident Raushelle Guzman, who has two children in district schools but doesn't know Bowden. On Wednesday afternoon it sought 65,000 signatures by Dec. 31, but set its sights higher when it blew past that number around 7 p.m.
The story has been picked up by media all over the world. Pocatello's mayor, Brian Blad, sought a meeting with the district—even as the city took pains to emphasize it had no say in how the district is managed.
"We appreciate the District's willingness to meet with the Mayor even though we are completely separate entities with no jurisdictional oversight over each other," the statement reads. "We all agree that it's the children in our community who are important."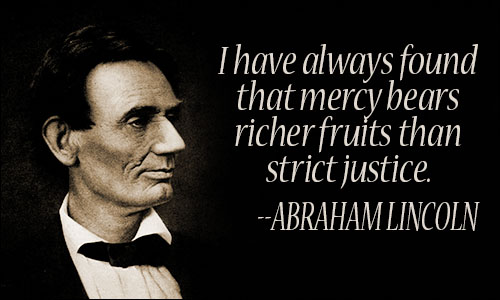 Pope Francis And Abraham Lincoln Agree On The Roles Of Mercy And Justice
Mercy Is Not Fair
Pope Francis: "A Little Mercy Makes The World More Just"
"Which Do You Value More?
Punishment Rarely Reforms But Instead Tends To Reinforce Wrongdoing
The United States Is A Singularly Cruel, Vengeful Nation. Solitary Confinement For Kids