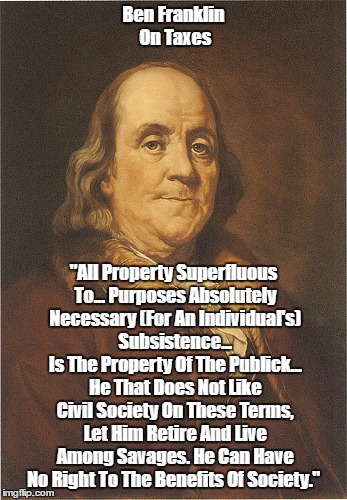 Benjamin Franklin to Robert Morris
"The Remissness of our People in Paying Taxes is highly blameable; the Unwillingness to pay them is still more so. I see, in some Resolutions of Town Meetings, a Remonstrance against giving Congress a Power to take, as they call it, the People's Money out of their Pockets, tho' only to pay the Interest and Principal of Debts duly contracted. They seem to mistake the Point. Money, justly due from the People, is their Creditors' Money, and no longer the Money of the People, who, if they withold it, should be compell'd to pay by some Law.
All Property, indeed, except the Savage's temporary Cabin, his Bow, his Matchcoat, and other little Acquisitions, absolutely necessary for his Subsistence, seems to me to be the Creature of public Convention. Hence the Public has the Right of Regulating Descents, and all other Conveyances of Property, and even of limiting the Quantity and the Uses of it. All the Property that is necessary to a Man, for the Conservation of the Individual and the Propagation of the Species, is his natural Right, which none can justly deprive him of: But all Property superfluous to such purposes is the Property of the Publick, who, by their Laws, have created it, and who may therefore by other Laws dispose of it, whenever the Welfare of the Publick shall demand such Disposition. He that does not like civil Society on these Terms, let him retire and live among Savages. He can have no right to the benefits of Society, who will not pay his Club towards the Support of it."
http://press-pubs.uchicago.edu/founders/documents/v1ch16s12.html
1910 Income Tax Promised To Never Shift Burden From Richest 1 - 4%
"All The Dirt On Donald"
Lies, Damned Lies, Statistics - And Devious Donald
Ted Nugent, Donald Trump, And The Madness Of The Good Christians' Neo-Confederacy
Ted Nugent Reveals The Essential Piggishness Of The Good Christians' "Party Of Family Values"
"Political Humor": A Smart, Witty Facebook Page With Well-Chosen Memes, Videos And More
Donald Trump: "It's Even Worse Than You Think," Author David Cay Johnston Interview



Pulitzer Prize-Winning Investigative Journalist David Cay Johnston Calls Trump "One Of The Most Successful Criminals In America"And "The Greatest Con Artist In The History Of The World"
"Malefactors Of Great Wealth Are Curses To The Country," Teddy Roosevelt
E.J. Dionne: "The Steep Price Of The Trumpian Circus - The Dumbing Down Of Discourse"
Donald Trump And The Seven Deadly Sins
Franklin Delano Roosevelt: The Last Time America Elected A "Democratic Socialist..."
"Politics and Economics: The 101 Courses You Wish You Had"
28 Enormities That Prevent Conscionable People From Hoping Trump Is A Successful President
VIDEO: Trump Tells More Lies Than Any U.S. Politician. Why Do Patriots And Christians Believe A Liar?