Alan: I am impressed by Prof. Snyder's ability to make history applicable to "the fierce urgency of Now." I became aware of Snyder's work through the BBC's brief but eyeopening interview on April 17, 2017.
"What History Can Teach Us About Today's Politics"
BBC Interview
http://www.bbc.co.uk/programmes/p050c790
"On Tyranny: Twenty Lessons From The 20th Century"
Videotape of talk given the occasion of book release
Yale History Professor Timothy Snyder
"Can History Save Us From Ourselves?"
Videotape Of Talk
Yale History Professor Timothy Snyder
Compilation Of Pax Posts On Similarities Between Hitler And Trump
www.rawstory.com/.../expert-on-nazism-explains-the-shocking-similarities-between-tr...
www.washingtonexaminer.com/...post...parallels-between-trump-and-hitler/.../261350...
https://www.washingtonpost.com/.../what-germans-really-think-about-those-hitler-trump...
www.wbur.org/hereandnow/2016/12/07/trump-hitler-comparisons
www.newsweek.com/just-how-similar-donald-trump-adolf-hitler-501252
www.politicususa.com/2016/11/17/shut-godwin-trump-nazi-comparisons-legit.html
www.independent.co.uk › News › World › Americas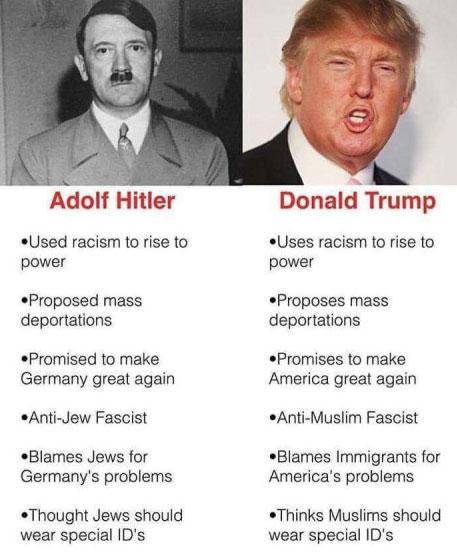 Alan: History doesn't necessarily repeat itself... but almost always it rhymes.
Compendium Of Pax Posts Concerning Trump's Habitual Lying
Updated Compendium Of Pax Posts About Donald Trump