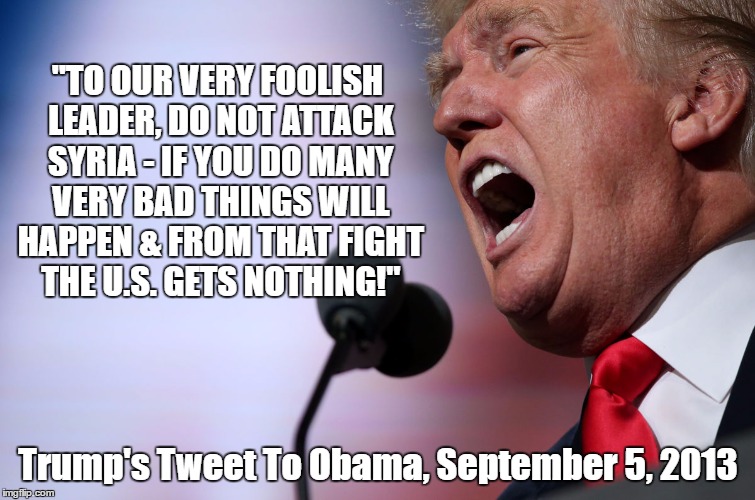 Whatever The Meaning Of Trump's Attack On Syria, It Does Not "Put America First"
http://paxonbothhouses.blogspot.com/2017/04/whatever-meaning-of-trumps-attack-on.html
President Donald Trump said the Obama administration "had a great opportunity to solve" the crisis in Syria when Obama set a "red line" for military intervention. But when Obama didn't launch such intervention, "I think that set us back a long ways," Trump said. However, Trump ignores his repeated calls at the time to "not attack Syria."
Trump, April 4 statement:

These heinous actions by the Bashar al-Assad regime are a consequence of the past administration's weakness and irresolution. President Obama said in 2012 that he would establish a "red line" against the use of chemical weapons and then did nothing.
Trump said the recent chemical attack had "a big impact on me" and that his "attitude toward Syria and Assad has changed very much," but he stopped short of saying he had changed his mind about military intervention in Syria. "I'm not saying I'm doing anything one way or the other," he said.
At the time of the red-line episode, Trump didn't describe it as "a great opportunity to solve this crisis." He instead advocated not intervening in Syria.
Let's look back at Obama's 2012 statement, subsequent actions and Trump's public statements at the time.
On Aug. 29, 2013, Trump's tweet on the topic said that "Obama needs Congressional approval" for action in Syria, which is exactly what Obama sought two days later.
In a Sept. 13, 2013, interview on CNN, Trump criticized Obama for indecision: "Well, it all began when we he used the term red line, he's going to draw a line in the sand essentially and don't cross," Trump said. "That they crossed but he didn't do anything and then it became very late, and he decides to go back to Congress, and Congress is having fits over it, and it looks like he wasn't going to even come close to getting to vote and he started looking very, very ineffective."
"It's the most incredible thing I've ever witnessed as opposed to just either doing it or nothing," Trump said, adding that he didn't think military intervention should be done.
Moderator Martha Raddatz, Oct. 9, 2016, presidential debate:

Mr. Trump, let me repeat the question. If you were president … what would you do about Syria and the humanitarian crisis in Aleppo? And I want to remind you what your running mate said. He said provocations by Russia need to be met with American strength and that if Russia continues to be involved in air strikes along with the Syrian government forces of Assad, the United States of America should be prepared to use military force to strike the military targets of the Assad regime.

Trump:

OK. He and I haven't spoken, and I disagree. I disagree. …

I think you have to knock out ISIS. Right now, Syria is fighting ISIS.
Politicians are certainly free to change their minds, and Trump indicated in his April 5 press conference that his attitude toward Assad had changed. And, as we said, Trump is free to criticize the Obama administration's actions. But the president's claim that Obama missed "a great opportunity to solve this crisis" when Obama set a red line glosses over Trump's past statements against intervention.