Alan: To get a quick handle on the wreckage of America's educational system and the obstacles that must be cleared to "right what's wrong," Howard Zinn's "A People's History Of The United States" should be an integral part of the American History curriculum at every American high school.
In recent decades -- at least since Ronald Reagan's "Me Generation" -- "American citizens" have morphed
into "Consumer Units" whose overarching guidance is the dictum: "S/he who dies with the most toys wins."
"Americans are fucked. They've been bought off. And they come real cheap: a few million dirt bikes, camcorders, microwaves, cordless phones, digital watches, answering machines, jet skis and sneakers with lights in 'em. You say you want a few items back from the Bill of Rights? Just promise the doofuses new gizmos." George Carlin
"There is just enough bullshit to hold things together in this country. Bullshit is the glue, that binds us as a nation. Where would we be without our safe, familiar, American bullshit? Land of the free, home of the brave, the American dream, all men are equal, justice is blind, the press is free, your vote counts, business is honest, the good guys win, the police are on your side, god is watching you, your standard of living will never decline… and everything is going to be just fine— The official national bullshit story. I call it the American okie doke. Every one, every one of those items is provably untrue at one level or another, but we believe them because they're pounded into our heads from the time we're children. That's what they do with that kind of thing—pound it into the heads of kids, 'cause they know the children are much too young to be able to muster an intellectual defense against a sophisticated idea like that, and they know that up to a certain age children believe everything their parents tell them. And as a result, they never learn to question things. Nobody questions things in this country anymore. Nobody questions it—everybody is too fat and happy. Everybody's got a cell phone that'll make pancakes and rub their balls now— Way too fucking prosperous for our own good. Way too fucking prosperous, Americans have been bought off and silenced by toys and gizmos. And no one learns to question things."
George Carlin
"Shopping and buying - and getting and having - comprise the Great American Addiction. No one is immune. When the underclass riots in this country, they don't kill policemen and politicians, they steal merchandise. How embarrassing." George Carlin
Favorite George Carlin Shticks
Psycho-spiritually, our devolution into corporately-conditioned "consumer units" has been as drastic as what "the pods" achieved in "The Invasion Of The Body Snatchers."
Consequent besottedness - a sure sign of America's abject surrender to materialism - is most common among conservatives (which is why they are inordinately driven to drone on, by way of compensation, about their "lofty principles").
On the other side of the aisle, a large (and growing) number of "liberals" and "progressives" prefer life-enhancing experiences -- service, travel, and immersion in "the natural world" -- to the "things" that America's "Merchants Of Materialism" pimp to "consumer units" in grotesque mimicry of prostitutes selling their simulacrum of "love" to people who never learned the difference between pleasure and joy.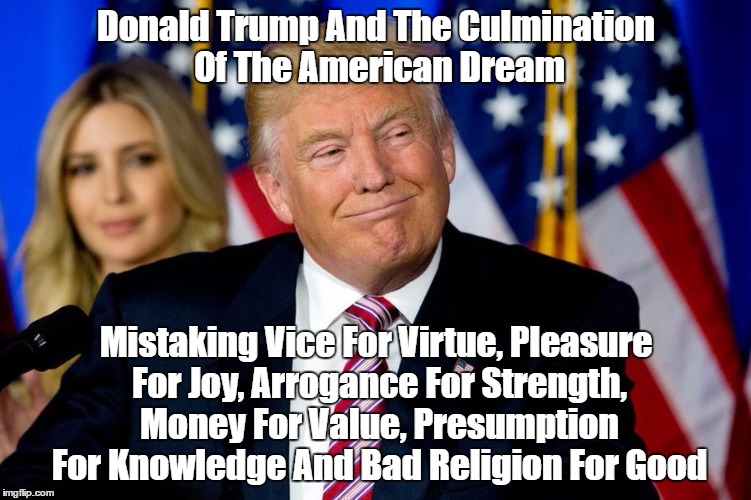 Howard Zinn is the linchpin of my proposed remedy. https://en.wikipedia.org/wiki/Howard_Zinn
Although traditional American History textbooks should remain part of high school curricula, Zinn's book - which, like any book, is imperfect - should stand alongside them to provide counterpoint.
Imagine if American History curricula (preferably in an obligatory two-year high school sequence rather than a perfunctory single semester course) were designed so that students could "pass" only if they learned "how to think" - a significant demonstration of which would be a 20 page essay comparing and contrasting Zinn's "A People's History" with a mainstream text such as James A. Henretta's "America's History." (If American History were taught as a two year sequence, the first year could be based on a mainstream textbook and year 2 on Zinn's "A People's History" which, by the way, is also available in an edition designed for young people).
Much of America's cultural upheaval and social degradation is due to the fact that "the deplorables" cannot fathom what "thinking" (and its educational run-up) entail.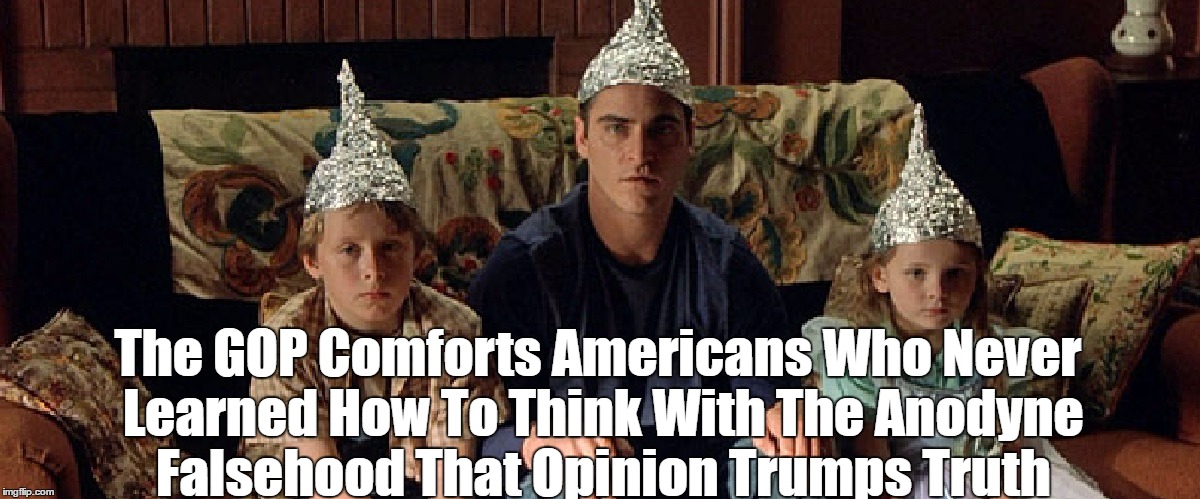 At the same time, "The Dimwitted" are imbued with an intuitive sense that "thinking" threatens to upend their simplistic "sound bite" worldview and so they belittle thinking (and its cultural/political implications) as "elitism" when, in fact, richly-contextualized thinking is the very activity that makes "homo sapiens"... well ... sapiens.
The Dunning-Kruger Effect:
Stupid People Don't Know They're Stupid
Currently, my 18 year old son, Danny, is walking The Appalachian Trail from north to south. At the moment -- while crossing Vermont -- the only book in his pack is "A People's History Of The United States."
Here is an online copy of Zinn's landmark volume: http://www.historyisaweapon.com/zinnapeopleshistory.html
"A Republican Lawmaker Is Trying To Ban All Books By Howard Zinn From Arkansan Schools"
Rick Santorum's Vilification Of "A People's History Of The United States"
Fact-Checked By Pulitzer Prize-Winning PolitiFact
A People's History Of The United States





by Howard Zinn
Presented by History Is A Weapon.