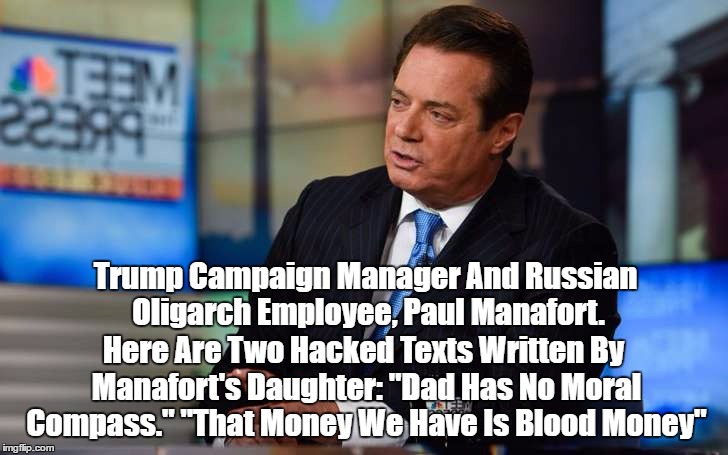 Manafort's Daughter's Hacked Texts: "Dad Has No Moral Compass." "That Money We Have Is Blood Money"
Business Insider
is reporting that they have read some hacked text messages of Manafort's daughter, and here is what they're finding.
Late last month, hackers broke into Manafort's daughter's iPhone and published four years' worth of purported text messages — roughly 300,000 messages — on the dark web, an encrypted network that can be accessed only with a special browser.

...

In a series of texts reviewed by Business Insider that appear to have been sent by Andrea to her sister, Jessica, in March 2015, Andrea said their father had "no moral or legal compass."

...

"Don't fool yourself," Andrea wrote to her sister, according to the texts. "That money we have is blood money."

"You know he has killed people in Ukraine? Knowingly," she continued, according to the reviewed texts. "As a tactic to outrage the world and get focus on Ukraine. Remember when there were all those deaths taking place. A while back. About a year ago. Revolts and what not. Do you know whose strategy that was to cause that, to send those people out and get them slaughtered."

…

"He is cash poor right now," the text said. "And now Ukraine is late in paying him."

"He is a sick f---ing tyrant," Andrea appears to have said to Bond about her father. "And we keep showing up and dancing for him. ... We just keep showing up and eating the lobster. Nothing changes."
Did Trump know about this? Did he cover up for a "
sick f---ing tyrant"? What kind of "people" are they? And the Republican efforts to cover all this up continue. How many rabbit holes do we have to go down before Republicans show an ounce of loyalty to their country and a gram of empathy towards humanity?
Trump's Ties To Russia: There's No Fire Yet... But The Smoke Is Getting Thicker.