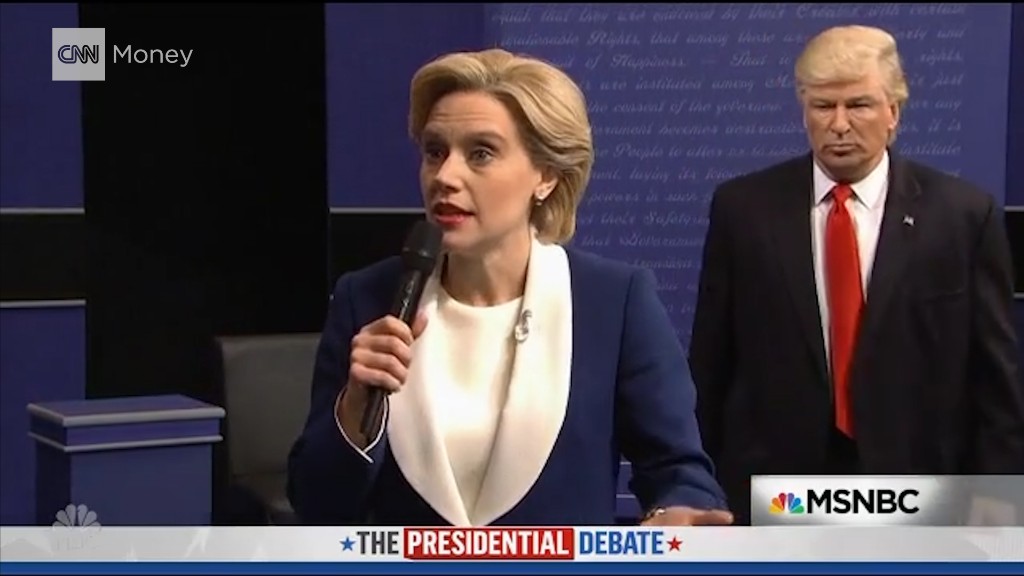 Dear P,
"I feel like I'm living in a Saturday Night Live skit."
What a great sentence Patrick! Well done!
And the Prayer Breakfast!
I just concluded an hour and a half conversation with physician friend, David, who moved to Canada 5 years ago when he saw "the fascist writing on the wall."
David tells me that Canadians - and the Canadian press - see America immersed in Complete Madness and that Trudeau appears to be prepping a "statement" that makes clear Canada's view that The Despicable One has run off the rails, and in the midst of this train wreck Canada intends to remain an undimmable beacon of sanity, rationality and generosity.
Or, as I observed during my 4 years living in Canada as a University of Toronto undergradiate: "Canada is the only fully civilized country in the western hemisphere. And the U.S.A. is appropriately called "The United States of Barbaria."
Here's a pertinent heads-up.
Where To Invade Next?"
2016 Documentary By Michael Moore
Freely streamable on Vimeo
Pax vobiscum

Alan
On Thu, Feb 2, 2017 at 2:05 PO wrote:
Great photo M. Glad I was there. What was amazing is that 99 percent of the folks there I did not know !!!! Trump is awakening the masses of sleepy Americans. They're scared. Trump's prayer breakfast "sermon" today was bizarre beyond measure. I feel like I'm living in a Saturday Night Live skit... But it is REAL.

-----Original Message-----

From: MH

To: Alan Archibald <

alanarchibaldo@gmail.com

>

Cc: PO

Sent: Thu, Feb 2, 2017 11:42 am

Subject: RE: Patrick's column -- Muslim ban

Y'all are welcome to distribute.

-- MH

______________________________

__________

From: Alan Archibald [

alanarchibaldo@gmail.com

]

Sent: Thursday, February 02, 2017 11:04 AM

To: MH

Cc: PO

Subject: Re: Patrick's column -- Muslim ban

Dear Marsh,

Thanks for sharing your photograph.

I have taken the liberty of posting it on my blog.

http://paxonbothhouses.blogspot.com/2017/02/friends-protesting-trumps-muslim-ban-at.html

If you would like me to "take it down," that can be done at once.

Similarly, if you would like me to attribute your work, I am happy to do that as well.

Thanks!

Pax

Alan

On Thu, Feb 2, 2017 at 12:54 AM, MH wrote:

I was there at RDU and got a good photo of the crowd that shut down Terminal 2's departure traffic, taken from the parking structure across from it, while the crowd was still growing.

https://www.facebook.com/photo.php?fbid=10207752122872512&set=a.1080449102910.2011893.1576793136&type=3

-- MH

______________________________

__________

From:Undisclosed

Subject: Fwd: Patrick's column -- Muslim ban

By PATRICK O'NEILL

President Donald Trump's executive order last week to impose a travel ban on Muslims from seven countries has cast a wide and chilling shadow over the U.S. Muslim community.

Public reaction to the president's order was immediate and powerful. Demonstrations against Pres. Trump's order were held at airports all over the country including Raleigh-Durham International Airport where more than 1,000 people joined a spirited protest in opposition to the ban.

In Garner, the reaction of local Muslims was one of fear. I made contact with the Islamic Association of Raleigh (IAR) to try to set up an interview with a Muslim family from Garner.

The IAR media spokeswoman wrote back: "First family I tried is afraid of problems from (U.S. Government) ... parents are in processing for political asylum."

At the Grocery Boy Jr. convenience store on Garner Rd. proprietor, Terry Maher, a Palestinian Muslim born in Illinois, said Pres. Trump's order would not impact him personally, but that it likely is scaring many Muslims, especially those who are not citizens.

"I don't think he should have done it," Maher said of Pres. Trump's order. "He should be trying to unite people. Wherever you go in this country, Garner or a big metropolis, Muslims make up a large part of those communities. What he (Pres. Trump) is doing is isolating people. He should be uniting people as one instead of isolating people."

I was also able to interview Mohammed Ehab, a father of five school-age children who has been living in the U.S. for 26 years. He lives on the Garner-Raleigh border.

Ehab said his father, who was born in Syria, flew to Raleigh last Thursday, just two days before the executive order was imposed. On Friday, Ehab's father, who holds a U.S. passport, was admitted to the hospital with major medical problems.

Had he traveled two days later, Ehab's father may have been denied entry to the U.S. "If they had sent him back that would have been catastrophic," Ehab said.

Ehab, 48, a building mechanic, said mass media plays a deleterious role in creating negative stereotypes of Muslims in U.S. culture. Disney movies, such as Aladdin, often depict Arabs wearing turbans, yet, Arab men living in the West rarely wear turbans because they are normally worn to keep a person's head cool from the extreme Middle East heat. In the West, turbans are more commonly worn by Sikhs.

"Most Americans don't know what Muslim is, what other religion is," Ehab said.

Ehab said Pres. Trump's order is "going to create a lot of anxiety in this society, a lot of tension, and who benefits from this? There's no need for all this tension. Middle Easterners feel that they are victims back home, and they are victims here. But the media always portrays them as perpetrators, not victims."

My friend, Michelle Harkovich, a Muslim-American lawyer whose children went to school with some of my children, said Pres. Trump's order has made the Muslim community feel "marginalized and discriminated against.

"Those affected by this ban have been extremely well-vetted prior to gaining permission to enter this country, whether as political refugees, students, professionals, visitors or lawful permanent residents. No nationals of the specified countries have been involved in any terrorist acts here which makes the persecution even more incomprehensible. This ban is not only unconstitutional, but patently un-American."

During last year's campaign, Pres. Trump made a lot of bold proclamations regarding the direction he would be taking U.S. policy; empathy for the plight of refugees, immigrants and Muslims in general was not part his plan, and he appears to be making good on some of his proclamations.

This, however, is not good for America, a nation that began with large sailing ships full of immigrants coming to our shores from Europe. All four of my grandparents -- Evelyn, William, John and Mary -- came to the United States by ship in the early 1900s, entering the country through New York City's Ellis Island with the majestic Statute of Liberty as a backdrop, a sentry offering them welcome to a new nation.

Sadly -- and ironically -- Trump's ban actually continues a historical tradition of anti-immigrant sentiment long practiced in this country, in which groups of new immigrants coming to the U.S. have attempted to close the door behind them, keeping out the "riffraff." Other immigrants -- specifically Africans -- were brought to this country against their will as slaves.

What makes Pres. Trump's order especially egregious is his targeting of Muslims, a world religion that is comprised of millions of faithful and loving people who do not support the zealotry of extremists who discredit Islam by their random acts of violence.

During a symposium on Muslim-Christian relations held last year in Raleigh, one speaker noted that considering the large number of Middle Eastern health care professionals practicing in the Triangle, it is far more likely that a person's life would be saved by a Muslim rather then ended in an act of terrorism.

Immediately, my friend, Paul Leggitt, raised his hand, telling the audience that his recent surgery, which likely saved him from a possible fatal heart attack, was performed by his Muslim surgeon.

Immigration defines our national history. In my quarter century living in Garner, my life has been enriched by my many relationships with recent immigrants to our town.

My message today to my Muslim sisters and brothers is one of apology and sadness. Like millions of Americans, I stand in solidarity with the global Muslim community, which is being unfairly scapegoated because of the actions of small groups of zealots -- both Muslim and Christian.

Despite current tensions created by Pres. Trump's order, Ehab said his life in Wake County is good.

"In general, I think, in my opinion, the American people are good-hearted, good-natured people," he said. "When you write this, please write that the Muslim community really appreciates the support from the American people, because the higher level of anxiety that these people create -- like Trump, and before him, George Bush -- the more support we receive from the community. Because, like I said, Americans are good-natured people. I can testify to this because I've been in this country for 26 years."