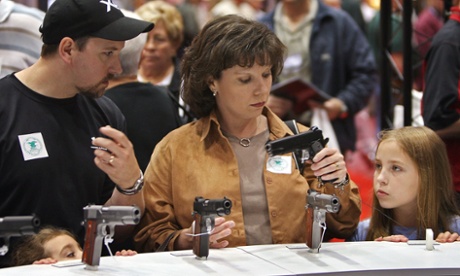 "Ladies, Show Us Your Guns"
Alan: What does an empire-in-decline look like? Contentious? Violent? So cowardly that citizens kill their fellows "on suspicion" and pass laws to legalize the murder? Driven by fear instead of aspiration? So hostile to compromise that The Body Politic agrees on nothing? A collapsed Social Contract? Individualism lauded to the exclusion of community? Paranoid self-protectiveness? Xenophobia? Battened hatches? Circled wagons? Guns everywhere... with geometrically more on the way.
In the long run, the collapse of empire may not be a bad thing.
Former empires are often quite livable places.
Italy. Spain. Holland. Portugal. Germany. England.
***
by Michele Richinik
A woman was taken to the hospital after a vendor accidentally fired a bullet into her leg while demonstrating products at a gun show in Pennsylvania, the local police told msnbc.
Geoffrey Hawk shot Krista Gearhart, 25, in the right leg while demonstrating how to use a concealed-carry wallet holster at the Eagle Arms Gun Show in Bloomsburg on Saturday, police said. Hawk, 44, is the owner of "In Case of Emergency" in Warminster, Pa.
According to the
Associated Press
, an entrance sign was posted outside of the show that read: "No loaded weapons."
Gearhart was transported to nearby Geisinger Medical Center, where she was treated and released later the same day, Bloomsburg Police Officer Bradley Sharrow told msnbc.
Gearhart does not plan to pursue criminal charges against Hawk, Sharrow said. But the Columbia County's district attorney ultimately will make the decision whether or not the vendor is charged for negligence.
Following the incident, Gearhart told a local newspaper that she had sympathy for Hawk and wanted to return to the two-day gun show, according to the
Press Enterprise
.