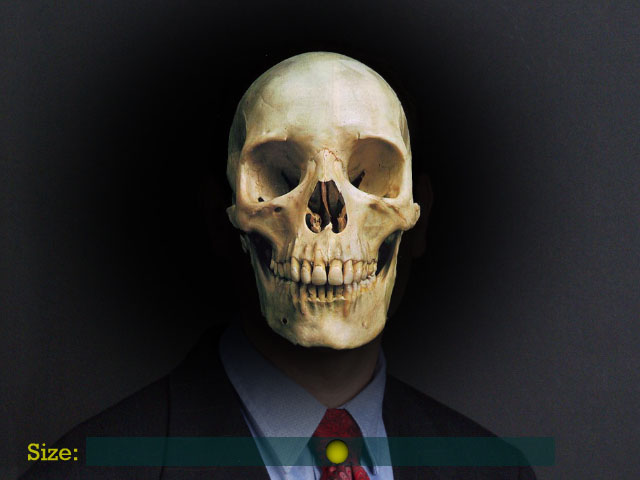 Hace dos años, unos días después del día del pavo, entre 9:30 y 10:00 de la mañana, estaba visitando a una persona en Brownsville, Tejas. (1)
Apenas lo conocí hacía dos semanas. Toqué la puerta y nadie salía. Creí que esta persona vivía sola. Me había comentado como 3 o 4 días antes que había casado en Canadá, pero que ahora estaba viviendo solo. (2)
Yo andaba en busca de empleo, le preguntaba acerca de algún trabajo. El me dijo que podría verlo posteriormente para ver si sabía de algo o si él mismo tenía algún trabajo que yo pudiera realizar. (3)
Como nadie respondió, yo pasé 20 minutos esperando afuera en la puerta. Varias veces toqué de nuevo, pero nadie respondió a pesar de que se escuchaba la radio o la televisión prendida adentro. (4)
No estaba seguro que me pasó, pero tuve un extraño presentimiento y me asomé a través del cristal de la puerta que era color humo. Ya pude ver que había una copa tirada sobre la alfombra, y con mas atención miré que habían gotas de sangre sobre la alfombra. (5)
Tuve el impulso y jalé la puerta que estaba abierta y camine un paso y medio hacia adentro. De repente, pude ver que había una persona tirada debajo de una mesa la cual estaba llena de sangre. Pude ver que la persona estaba en pura trusa y que tenia los brazos cruzados. En ese momento, no supe exactamente que hacer y tuve el impulso de alejarme del lugar e ir a avisar al dueño del carro que yo traía ya que el carro era prestado. (6)
Y así lo hice. Salía del trailer. (7)
Pude ver que una persona andaba caminando cerca de otro trailer y lo saludé con un movimiento de mano. No me detuve y seguí en mi camino. Fui a avisar al amigo, Elías, que me había prestado el carro. (8)
Lo había conocido a Elías por medio de un mecánico. Pero cuando llegué a su casa, Elías no se encontraba. Me comentó su hija que andaba por la pulga. Le comenté a ella un poco de lo que me había
pasado. Ella no supo que decirme, pero me dijo que su papá no tardaría en llegar, porque ya hacía rato que se había salido. (9)
Esperé no sé cuanto tiempo, tal vez 20 minutos. En ese tiempo, pensaba muchas cosas. Una era irme para México. Otra esconderme. Pero por mi responsabilidad de que yo traía el carro, y el carro lo habían visto dos o tres ocasiones por el lugar donde el asesinato. Habíamos estado haciendo un trabajo de mecánica a otro vecino en el parque de traileres, un señor no más lo conocía por "El Gordo." Y eso fue el motivo por que no hice nada por huir. (10)
Luego que llegó el señor Elías en seguida le comenté lo que había visto. Y él me sugirió que no me hubiese ido del lugar. Me sugirió que me regresara al lugar y si no había nadie aún en el lugar del crimen que avisara yo a algún vecino. (11)
Pero no fue así. Cuando regresé al lugar, ya lo tenían bloqueado y había una ambulancia, dos o tres patrullas de policía y un camerógrafo, y una veintena de personas que habían llegado al lugar del crimen. (12)
Quise pasar desapercibido pero adelante un policía me indicó que me parara. Me bajó del carro. Y luego, sin decirme nada, me esposó. Me llevó a un carro que no era patrullero sino un carro particular que sin embargo era de policia. Me introdujo en la parte atrás y luego con otro policía se metieron los dos, uno en la parte del volante, y otro atrás donde yo estaba. (13)
Una vez dentro del carro los dos empezaron a presionarme, diciéndome si lo conocía y porque lo había matado, al cual respondí que yo no lo había matado. (14)
Me cuestionaban mucho, como me habían encontrado unos preservativos en la bolsa del pantalón. Me dijeron que yo tenía algo que ver con el crimen, porque en ese momento me hicieron saber que el señor era homosexual. "Yo hasta ese momento," le dije que "no lo sabía." Era como la tercera o la cuarta vez que yo veía a esta persona. (15)
Entonces me preguntaron porque traía los preservativos. De una manera burlona me sugirieron que yo era el marido de esa persona. Y en ese momento me sorprendió y irónicamente me sonreí que provocó que uno de ellos me dijo que no me hiciera pendejo, que yo sabía quien lo había matado porque me dijo uno de ellos: "Tu no lo mataste solo. Porque para el tamaño que el hombre tenía, era casi imposible que yo lo hubiera hecho solo." (16)
Luego, me dijeron: "Anoche vieron tu carro parado aquí afuera y otros de tus amigos." Entonces me dijeron que dijera quienes más eran los supuestos asesinos. Yo les respondía que no sabía porque yo no había estado la noche anterior. Me respondieron que tenían videos y fotos. Entonces, yo les dije que si aparecía en alguna foto o algún video que tenían derecho de acusarme. (17)
El más grande de ellos me dijo: "Te veo muy fresco chavo. No sabes en que bronca te has metido." (18)
Yo le dije que era coincidencia del destino. El me dijo: "Más vale que hables. Porque si no, te voy a hacer hablar a chingadazos." Yo respondí que podía hacerlo porque yo estaba en manos de él. El me comentó que tenía prohibido eso, que le gustaría estar en México que allí sí me iban a hacer hablar. Contó que él tenia amigos policías en México y que les ponían unas chingas a los detenidos. Y que era un buen método para hacerlos hablar. Yo le dije que era injusto y él me preguntó que si lo que había pasado a la persona muerta era justo. Le dije que no, pero tampoco era culpable yo de lo que había pasado. (19)
Entre ellos hablaban en inglés el cual yo poco entendía. Y de allí no supe más. Me llevaron a una cárcel y allí me tuvieron encerrado, no sé, como dos días y una noche. Pero se me hizo eterno allí adentro. Estaba muy frío y solo nos dieron un pedazo de cobija. Y como a cada rato sacaban o metían a una persona, no se podía dormir. Allí adentro me pude dar cuenta que muchos eran borrachos, otros se hacían los locos, porque comenté con una persona que si en realidad que los que yo veía como locos eran locos. El me respondió que no, que actuaban de esta manera porque sabían su cuento. Fue eterno el tiempo que pase allí. Yo esperaba algún abogado o alguien que me informara de mi caso. (20)
Cuando me sacaron para darme un uniforme de cárcel le comenté mi caso a un policía de custodia que hablaba español. El me comentó que estaba bien que le comentara mi caso, pero que no se lo comentara a nadie más. Yo le dije que yo necesitaba saber pero yo no tenía dinero. Yo tengo hasta la fecha una esposa en México, y yo necesitaba de alguna manera que alguien en México supiera de mi situación, ya que yo no había vuelto a saber ni de Elías ni del mecánico. (21)
El policía me dijo: "Te ves buena persona y no creo que tú hayas matado a esa persona." Me dijo: "Ten fe, que si no eres culpable, pronto te van a sacar de aquí." Y yo le preguntaba que "¿Cómo?" Y él solo me dijo que no sabía. Eso fue todo que platiqué con el custodio. (22)
De allí me regresó a mi celda. No sé cuánto tiempo después, pero llegó un día que me llamaron y me dieron mi ropa. Me esposaron a una barandilla y yo pensaba mil cosas, si la libertad o la cárcel otra vez. (23)
Al poco tiempo pude ver que entró un oficial de inmigración al cual me entregaron. En ese momento pensé que mi caso había quedado atrás. El oficial de inmigración me subió a una patrulla y me llevó con rumbo desconocido. En el camino recogió a otras personas de otra patrulla. Y estuvo correteando a otras personas. Me llevaron a un corralón que está en Los Fresnos, Tejas. (24)
Allí estuve mejor porque comentaba con todos los demás que de allí nos iban a deportar a la frontera. Allí la comida era buena. Pero pasaron, no recuerdo bien, si veinte o 22 días. Y muchos salían, pero yo no. A mí no me sacaban. (25)
Para el colmo una madrugada aproximadamente a las tres de la mañana nos llamaron a varios. Nos subieron en un camión y todos contentos pensábamos que íbamos para México. (26)
Nos trasladaron después de haber corrido todo el resto de la noche y parte del día a Ft. Worth, Tejas. Allí nos trajeron de un lugar para otro, de oficina en oficina y de cárcel en cárcel, un proceso que era angustiante. Pues cada vez que se acordaban o que pedíamos, nos daban un sándwich. Hasta que por fin, después de cómo tres o cuatro días de proceso, de tomar datos y fotografías, nos llevaron a una cárcel grande. (28)
Y yo preguntaba "¿Por qué?" (29)
Porque antes de haber salido de Los Fresnos, nos habían llevado a un juez de inmigración, y el señor nos había dicho que nuestro único delito era haber cruzado la frontera ilegalmente, ya fuera por el puente o por el río. Y que esa pena se pagaba con $10.00. Pero debido a nuestra situación, nos dijo que él mismo donaba esta cantidad, que solo firmáramos una salida voluntaria o si creíamos tener derechos de estar en el país, podíamos apelar. (30)
Entonces, yo me preguntaba: "¿Por qué no nos habían regresado para México?" Ya habíamos firmado la salida voluntaria. Y ahora nos tenían en una cárcel. Muchos protestábamos por la comida de la cárcel nueva que también era muy fría. (31)
Y así, después de haber pasado como dos meses allí en esa cárcel, me deportaron. (32)
Spanish Learning Guide for "Un Cadaver Inesperado"
The "Spanish Learning Guide" provides paragraph-by-paragraph translation of difficult words and phrases found in the text of "Un Cadaver Inesperado." Each particular comment is separated from another by three slashes ///. Generally, the English language translation of Spanish phrases inclines toward "the literal" rather than "the literary." We believe that a relatively unpolished translation enables students to see instructive semantic relationships more easily.
1.) estaba visitando... "I was visiting"
2.) Apenas lo conocí... "I hardly just met him..." /// Me había comentado... "He had told me..." /// que había casado... "that he had married..."
3.) que podría verlo posteriormente... "that I could see him later" /// que yo pudiera realizar... "that I could do"
4.) Varias veces toqué de nuevo... Several times I knocked again /// la television prendida "the television was on"
5.) que me pasó... "what happened to me" /// me asomé através del crystal... "I looked through the window" /// habían goats de sangre... "there were drops of blood"
6.) jalé la puerta... "I pulled the door" /// pude ver que había una persona tirada debajo de una mesa... "I could see that there was a person lying under a table..." /// estaba en pura trusa... "he was only wearing underwear" /// no supe... "I didn't know" /// alejarme del lugar... "to get away from the place" /// avisar al dueño del carro que yo traía ya que el carro era prestado... "to notify the owner of the car I was using since the car was on loan."
8.) No me detuve y seguí en mi camino. "I didn't stop and continued on my way."
9.) Lo había conocido a Elías por medio de un mecánico. "I had met Elías by way of a mechanic." /// no se encontraba... "he wasn't in" (literally, "he didn't find himself" /// andaba por la pulga... "he was walking around the flea market." /// no tardaría en llegar... "he wouldn't delay in getting back" /// porque ya hacía rato que se había salido... "because it was a while ago now that he had left."
10.) Esperé no sé cuanto tiempo... "I waited I don't know how long (how much time)..." /// Una era irme para México. "One was to go to Mexico." /// Pero por mi responsibilidad de que yo traía el carro de otro, no lo hice. "But due to my sense of responsibility since I was using somebody else's car (the car of another), I didn't do it." /// También, el carro lo habían visto dos o tres ocasiones por el lugar donde el asesinato. "Also, the car had been seen two or three times near the place of the murder." /// Habíamos estado haciendo un trabajo de mecánica a otro vecino. "We'd been doing a mechanical repair "job" for a neighbor." /// un señor no más lo conocía por "El Gordo." "A guy I only knew as "Fatty." /// huir = "to flee.
11.) Luego que llegó el señor Elías... After Mr. Elias arrived... /// en seguida le comenté lo que había visto "immediately after I told him what I had seen" /// Y el me sugirió que no me hubiese ido del lugar. "He suggested to me that I shouldn't have left the place." /// si no había nadie aún en el lugar... "if there still wasn't anyone at the scene"
12.) una veintena... "about twenty"
13.) Quise pasar desapercibido... I wanted to pass through unseen... /// un policía me indicó que me parara... "a policeman indicated that I should stop /// me esposó. "he handcuffed me." /// sino un carro particular... "but rather a private car..." /// Me introdujo en la parte atrás y luego con otro policía se metieron los dos. "He put me in the back part and then he and another policeman got in." /// volante = "steering wheel"
14.) Una vez dentro del carro... "Once inside the car..."
15.) Me cuestionaban mucho, como me habían encontrado unos preservativos... They asked me a lot of questions since the had found some condoms... /// Me dijeron que yo tenía algo que ver con el crimen, porque en ese momento me hicieron saber... They told me that I had something to do with the crime since at that moment they let me know.... /// Yo hasta ese momento, le dije, que no lo sabía ... I told them that until that very moment I didn't know (he was gay.)
16.) De una manera burlona me sugirieron que yo era el marido de esa persona... In a joking way they suggested to me that I was the guy's husband... /// me sonreí que provocó que uno de ellos me dijo que no me hiciera pendejo... "I smiled which made one of them tell me not to be an idiot..." /// era casi imposible que yo lo hubiera hecho solo. "it was almost impossible that I had done it alone."
17.) Anoche vieron tu carro parado aquí afuera... "Last night they saw your car parked here outside..." /// me dijeron que dijera quienes más... "they told me to tell them who else" /// que si aparecía en alguna foto... "that if I appeared in some photo..."
18.) "Te veo muy fresco chavo. No sabes en que bronca te has metido." "I see you as a wise guy. You don't know what kind of trouble you've gotten into"
19.) "Más vale que hables. Porque si no, te voy a hacer hablar a chingadazos." "It's better that you talk. Because if not, I'm going to make you talk by beating the crap out of you (= a chingadazos). /// que tenía prohibido eso... "that was prohibited" /// que les ponían unas chingas... "that they beat guys" /// él me preguntó que si lo que habia pasado... "he asked me if what had happened..."
20.) "Entre ellos..." "Among themselves..." /// "Y de allí no supe más." "From then on (From there) I didn't learn anything more." /// "me tuvieron encerrado" "they had me enclosed (penned up)" /// "se me hizo" "it seemed to me" /// "un pedazo de cobija" "a piece of cover (a bit of blanket) /// "no se podía dormir." "one couldn't sleep." /// "me pude dar cuenta" "I could realize ( I could see)" /// que si en realidad que los que yo veía como locos eran locos." "that if those that I saw to be crazy were really crazy" /// "porque sabían su cuento." "because they knew their story (they knew the part they had to play.)
21.) "pero que no se lo comentara a nadie más." "but that I not tell it to anyone else." /// "yo necesitaba de alguna manera que alguien en México supiera de mi situación," "I needed that someone in México somehow know about my situation," /// "ya que yo no había vuelto a saber ni de Elías ni del mecánico." "since I had not learned anything new (I had not returned to know anything) about Elias or the mechanic."
22.) "Te ves buena persona y no creo que tú hayas matado a esa persona." "You look like a good person and I don't believe that you have killed that person." /// "Ten fe" "Have faith"
23.) "me regresó a mi celda." "he returned me to my cell" /// "Me esposaron a una barandilla" "They handcuffed me to railing."
24.) "Al poco tiempo pude ver" "A little later I could see" /// "El oficial de inmigración me subió a una patrulla y me llevó con rumbo desconocido." "The immigration oficial got me into a patrol car and took me to an unknown destination." /// "recogió" "he gathered (he got, he picked up)" /// "Me llevaron a un corralón" "They took me to a corral (a pen)"
25.) "Allí estuve mejor porque comentaba con todos los demás que" "There I was better off because I was talking with all the others about how"
26.) "Para el colmo" "To top it all off" /// "Nos subieron en un camión" "They got us into a truck"
28.) "Nos trasladaron después de haber corrido todo el resto de la noche" "They moved us after the rest of the night had gone by" /// "de oficina en oficina" " from one office to another" /// "cada vez que se acordaban o que pedíamos, nos daban un sándwich." "each time that they remembered, or that we asked, they gave us a sándwich."
30.) "Porque antes de haber salido" "Because before having left" /// "nuestro único delito era haber cruzado" "our only crime was having crossed" /// "ya fuera por" "whether it was by" /// "Y que esa pena se pagaba con $10.00." "And that this penalty was paid off with $10.00." /// "que solo firmáramos una salida voluntaria" "that we merely sign a voluntary exit paper"
31.) "yo me preguntaba: "¿Porque no nos habían regresado para México?" "I asked myself (I wondered): 'Why had they not returned us to México?'"
32.) "después de haber pasado" "after having spent"
"Cuentos Populares" is a compendium of personal stories told by
latinos
who have migrated to the United States. If you have a tale to tell, or know someone with an interesting life story, please contact Hogar Hispano so these stories can be published for the enrichment of all.