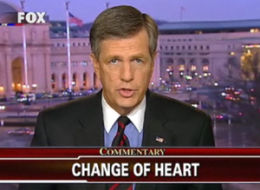 Excerpt:
"Fox News anchor Brit Hume got specific in his critique, saying this month that "
Romney's got the presidential bearing down
. .
.
. What he [hasn't done is] dwell at length on the economic policies that he would put in place." Why won't Romney, an intelligent man, fluent in economics, explain his economic policy? Because any sensible answer would cause a firestorm in his party... It is obvious that, with a deficit at 8 percent of gross domestic product, any solution to our budgetary problems has to involve both spending cuts and tax increases. Ronald Reagan agreed to tax increases when the deficit hit 4 percent of GDP; George H.W. Bush did so when the deficit was 3
percent of GDP. But today's Republican Party is organized around the proposition that, no matter the circumstances, there must never be a tax increase of any kind... The Republican Party has imposed a new kind of political correctness on its leaders. They cannot speak certain words (taxes) or speculate about certain ideas (immigration amnesty) because these are forbidden. Romney has tried to run a campaign while not running afoul of his party's strictures. As a result, he has twisted himself into a pretzel, speaking vacuously, avoiding specifics and refusing to provide any serious plans for the most important issues of the day."
In the following clip, Zakaria delivers his written script (below) in video form.
http://www.firstpost.com/topic/person/mitt-romney-fareed-zakaria-gps-fareeds-take-video-lhpQp-eoRgE-4280-1.html
***
Romney's tongue-tied eloquence