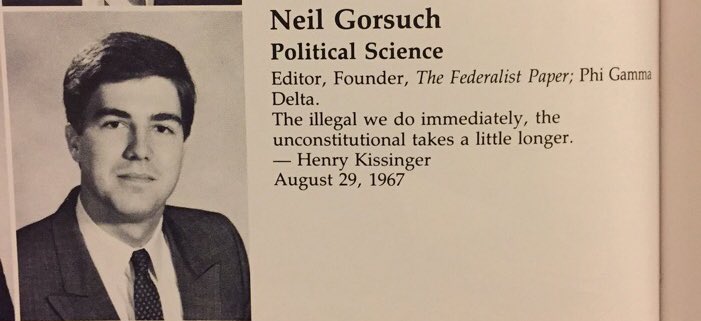 Alan: After high school, Neil Gorsuch attended Columbia University and chose the following 1967 Henry Kissinger quote to accompany his yearbook photo: "The illegal we do immediately, the unconstitutional takes a little longer".
Today, Gorsuch support a wide range of right-wing organizations including the Heritage Foundation, the Faith and Freedom Coalition, and the NRA.
Dear Chuck,
Thanks for sending the Gorsuch link.
I appreciate that Gorsuch is neither liberal nor progressive. He is, in fact, part of the right-wing establishment.
However, compared to Scalia, Gorsuch is - in the big picture - a net gain. ANY net gain coming from The Deplorable One is an unexpected boon.
Furthermore, if Democrats successfully block his nomination, we will end up with a nominee immeasurably worse.
When it comes to mainstream politics, my prime directive has long been to prevent the election (or appointment) of people who are manifestly nuts.
On those rare occasions when something progressive actually happens, I consider it "gravy."
If Gorsuch's nomination is not ratified, Trump -- if only out of spite -- will nominate someone who could be as crazy as he is.
We humans cannot cry wolf very often before our views are no longer credible.
It's rather like the the hypochondriac who died at 104.
Her tombstone read: "I told you I was sick!"

Alan
On Tue, Apr 4, 2017 at 2:22 AM, Alan Archibald
<alanarchibaldo@gmail.com>
wrote:
Dear Chuck,




Thanks for your email.




I appreciare that Gorsuch is neither liberal nor progressive; that he is, in fact, part of the right-wing establishment.




However, compared to Scalia, Gorsuch is a net gain in "the big picture."




And if Democrats successfully block his nomination, we will end up with a nominee who's immeasurably.




When it comes to mainstream politics, my prime directive is to prevent the election (or appointment) of people who are manifestly wacko.







If Gorsuch's nomination is not ratified, Trump -- partly out of spite -- will nominate someone who could be as crazy as he is.




We humans can't cry wolf very often before our views are no longer credibler.




It's a bit like the the hypochondriac who died at 104: Her tombstone read "I told you I was sick!"




On Mon, Apr 3, 2017 at 9:14 AM, CH wrote: