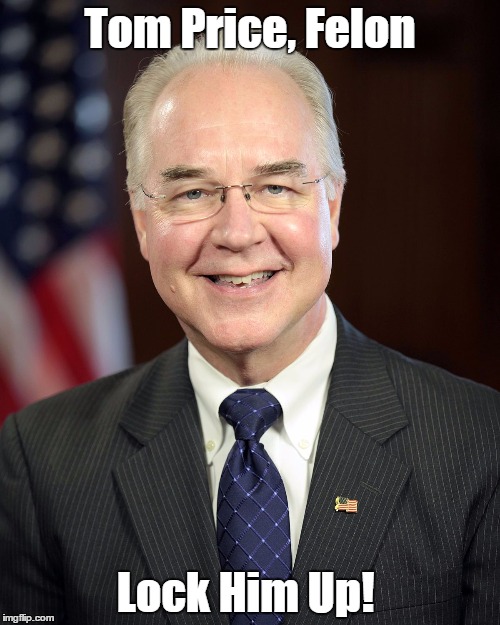 Health And Human Services Secretary Tom Price Bought Medical Stock,
Then Authored Bill Benefiting The Company
I have not paid much attention to next week's toss-up House election in the ruby-red Georgia district which Republican felon Tom Price recently represented.
Furthermore, if Democratic candidate Ossoff wins next week's special election, huge numbers of Republicans -- already in frank opposition to His Satanic Majesty
-- will become proverbial rats, jumping ship to save their political lives.
Simultaneously, their desertion will make it impossible for Trump to get ANY of his already-imperiled-agenda approved.
1.) It is already clear that Obamacare will not be repealed;

2.) that The Wall will not be built (nor will Mexico pay for it)
3.) that punitive tariffs will not be imposed on China who, until last week's nascent love affair, was "raping the United States"
4.) that Trump will not declare China a currency manipulator
5.) that Trump will not refrain from taking vacations (rather, he will take them weekly)
6.) that Trump will not exclusively use U.S. steel for infrastructure projects
7.) that Trump will not renegotiate The Iran Deal
8.) that Trump will not enact a constitutional amendment for term limitation
9.) that Trump will not appoint a special prosecutor to investigate Hillary Clinton
10.) that Trump will not advance his infrastructure improvement plan without decisive Democratic support (after Republicans, out of spiteful obstructionism, blocked Obama's very similar infrastructure plan for 8 years)
11.) that Trump will not elminate gun free zones around the nation's schools
12.) that Trump will not limit libel laws as they relate to politicians
13.) that Trump will not "close the internet" in those areas where ISIS is active
14.) that Trump will not bring back waterboarding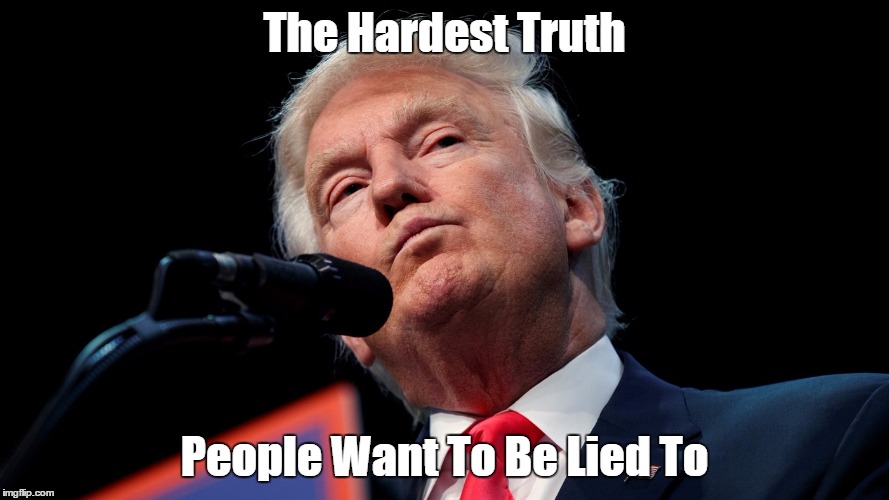 15.) that Trump will not cancel the Paris climate aggreement
16.) that Trump will not reverse China's entry into the World Trade Agreement
17.) that Trump will not remove all 11 million illegal immigrants
18.) that Trump will not remove existing Syrian refugees
19.) that Trump will not grow the economy by 4% per year
20.) that Trump will not "bring the jobs back"
21.) that Trump will not restore the coal industry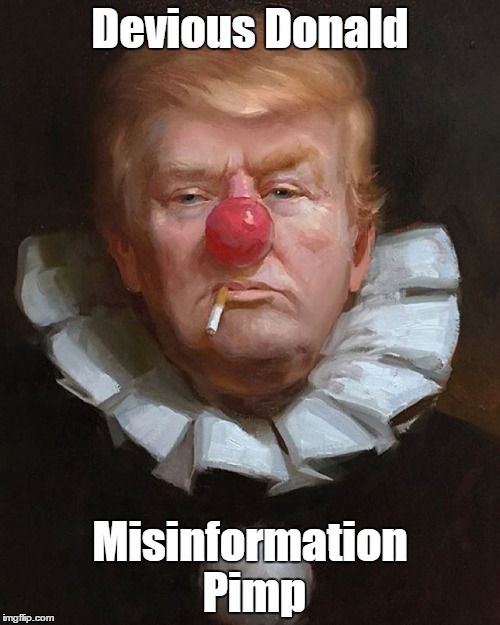 22.) that Trump will not eliminate the federal debt in 8 years
23.) that Trump will not sue his sexual abuse accusers
24.) that Trump will not release his tax returns after his audit is completed
25.) that Trump will not cut middle class taxes
"especially
(while
The 1%
will make out like bandits)
26.) that Trump will not balance the budget "fairly quickly"
27.) that Trump will not terminate Obama's immigration executive orders "immediately"
28.) that Trump will not change the name of Mount Denali back to Mount McKinley.

Compendium On Best Pax Posts On Donald Trump, Pathological Liar
Republicans, Democrats target Ossoff in Georgia special election
His Republican rivals call him "Darth Vader," a "lightweight liberal" and a "puppet of the left." Fellow Democrats vow to block his "coronation" and paint him as an outsider. More than $1 million has already been spent to bog down his candidacy.
Democrat Jon Ossoff has transformed the race for suburban Atlanta's 6th Congressional District, and his soaring donations and groundswell of support from energized Democrats have fast painted a shiny target on his back as he scrambles to flip Tom Price's ruby-red turf.
Just about every candidate in the crowded April 18 special election to represent the district, which spans from east Cobb County to north DeKalb County, has assailed the 30-year-old former congressional aide. And Republicans determined to keep a GOP stronghold are readying more attacks.
But even Ossoff's Republican adversaries marvel about his campaign's field operations and the more than $3 million he's raised in 10 weeks — and worry about their own fractured field of 11 GOP candidates battling each other for their own slice of the electorate.
All 18 candidates in the race are on the same ballot, and if none get a majority of the vote, the top two vote-getters will square off in a June 20 runoff. Some worry Ossoff could win the race, upending the national debate about President Donald Trump's popularity in one of the first votes since his election.
"If we have 65 percent of the GOP vote and spread it out over 11 candidates — do the math," Michael Fitzgerald, the district's GOP chairman, said in sobering remarks to Republicans at a recent forum. "The question is: Are we going to resist these outsiders taking over our district?"
Bruce LeVell, running on a pro-Trump platform, took it a giant step further, saying Ossoff embodied the very essence of evil: "His party is from the Dark Side — Darth Vader."
Ossoff has largely stuck to his talking points, hoping to deprive Republicans of red-meat attacks. He's pivoted toward the House GOP's beleaguered health care plan, criticizing funding cuts to the Atlanta-based Centers for Disease Control and Prevention that could hit a disease-fighting initiative.
And he and his supporters talk increasingly of landing a knockout punch: the long odds of winning the race outright in April. After all, a runoff against a unifying Republican with the full weight of the party behind him or her would neutralize many of Ossoff's advantages.
"The only way to approach any election is to try to win it outright," Ossoff said. "That's what my team and I are trying to do every day."
A virtual unknown in Georgia political circles, Ossoff jumped in the race in January with the endorsements of U.S. Reps. John Lewis and Hank Johnson and more than $250,000 in cash commitments — instantly making him the leading Democratic contender.
Since then, he's become a national Democratic darling with his "Make Trump Furious" mantra and support from
the liberal Daily Kos website
, which has raised more than $1.2 million for him from more than 70,000 donors.
The seat has been in GOP hands since Jimmy Carter's presidency, launching Newt Gingrich, Johnny Isakson and Price to higher orbits. But Democrats hope to capitalize on Trump's struggles here — he carried the district by 1 point in November — in the most competitive contest since the president's election.
Operatives on both sides of the aisle know that the race could prove a template for how congressional candidates wage campaigns in the era of Trump. And Republicans have sprayed a scattered-shot wave of attacks seeking to cripple his campaign.
"We've now almost given him a spot in the runoff. A month out, everyone is fighting for that other spot," said GOP strategist Chip Lake, who is not working for any candidate in the race. "Whether or not Ossoff wins, this should be a wake-up call to the Republicans nationally about how energized the Democratic base is against this president."
The bulk of them paint Ossoff as a naïve newcomer. Bob Gray, a former Johns Creek city councilman and GOP candidate in the race, called him an "embarrassment" with little experience. Another Republican contender, businessman David Abroms, said voters should "fight fire with fire" against Ossoff and turn to another youthful outsider.
A House GOP super PAC
unleashed a $1.1 million ad campaign featuring footage of him dressed as Han Solo while at Georgetown University — and claims he "lied about his resume" by asserting he worked for five years as a national security staffer with top security clearances.
Ossoff and his campaign said he was granted those privileges working for Johnson after his 2006 election, while the super PAC said he's claiming time spent as a junior staffer as part of that calculation.
More recently, Republicans have probed for other weaknesses.
Georgia GOP Chairman John Padgett seized on a fundraiser that U.S. House Minority Leader Nancy Pelosi held for Ossoff last week in Washington, declaring him a "puppet of the left." And former Georgia Secretary of State Karen Handel, the biggest GOP name in the race, used her debut ad to
slam his investigative film company's work
for Al-Jazeera, a Qatar-based network described by critics as a propaganda outlet.
Ossoff has struggled to keep up with the swirling attacks. He rushed
out a trio of TV and radio spots
— spending more than $1 million in advertising buys — depicting himself as a can-do public servant with support from Lewis and former Georgia Gov. Roy Barnes.
He and his campaign have declined to comment on some of the criticism. Others they label as "absurd" or describe as cheap shots.
"Jon condemns partisan attacks that appeal to fear," his campaign said of the Al-Jazeera focus, "and stands by his work as a journalist and businessman."
Ossoff has found little safe quarter with fellow Democrats.
A recent forum featuring
the five Democrats in the race opened with one little-known candidate,
Ragin Edwards
, asking the crowd of more than 400 voters to raise their hands if they lived in the district. Ossoff's hand was one of the few not to alight.
It was a reminder of another issue that could plague his campaign. He lives south of the district's border with his girlfriend of 12 years, an Emory University medical student, so they can be within walking distance of her work.
Members of Congress don't have to live in their districts, and Ossoff said he will move to the 6th after she graduates. But that's left an opening for opponents to peg him as an outsider.
Former state Sen. Ron Slotin has tried to exploit that gap by calling himself the "adult" on the Democratic side of the race. He criticized Ossoff
for "not having a business in the United States,"
a reference to his London-based firm, and said Ossoff is doomed to fail.
"This is not going to be a coronation. You have to earn it,"
Slotin said
. "He stands no chance against a Republican in the runoff. And that's what I'm letting people know. The party shouldn't pick favorites."
Ossoff has tried to brush off the criticism while contending his rivals are getting "dragged into partisan politics."
"I grew up in this district. I grew up in this community," the north DeKalb native said. "Folks want decent representation, not partisan representation. I will offer effectiveness, integrity, humility and responsiveness."