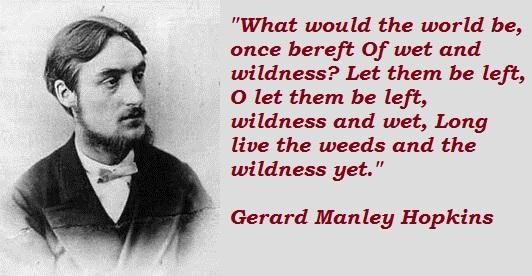 THE HABIT OF PERFECTION
by Gerard Manley Hopkins, S.J.
ELECTED Silence, sing to me
And beat upon my whorlèd ear,
Pipe me to pastures still and be
The music that I care to hear.
Shape nothing, lips; be lovely-dumb:
It is the shut, the curfew sent
From there where all surrenders come
Which only makes you eloquent.
Be shellèd, eyes, with double dark
And find the uncreated light:
This ruck and reel which you remark
Coils, keeps, and teases simple sight.
Palate, the hutch of tasty lust,
Desire not to be rinsed with wine:
The can must be so sweet, the crust
So fresh that come in fasts divine!
Gerard Manley Hopkins S.J.
Wikipedia
Religion and Perfectionism
Pax on both houses: Hannah Arendt On Life, Death And Perfectionism
Pax on both houses: Pope Francis: On Perfection
Pax on both houses: Uncompromising Commitment To "Perfection ...
Pax on both houses: Ursula Le Guin: Refuse To Play The Perfection ...
Conservatives Are Born To Bitch At Every Imperfection Which Means Everything But Themselves
http://paxonbothhouses.blogspot.in/2016/11/republicans-born-to-bitch-at-anything.html
Compendium Of Best Pax Posts On "Too Pure Principles" And The Collapse Of Conservatism