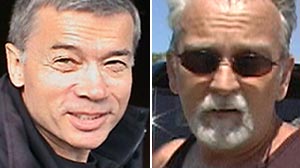 Torture Profiteers,

James Mitchell and Bruce Jessen
"The Story of Mitchell Jessen & Associates: How a Team of Psychologists in Spokane, WA, Helped Develop the CIA's Torture Techniques," Democracy Now with Amy Goodman.

http://www.democracynow.org/2009/4/21/the_story_of_mitchell_jessen_associates
***
The two contractors, former military psychologists knew how to train pilots to withstand torture, but they had no idea how best to extract true and useful information.
The New York Times
Uncle Sam
Making the world a better, safer place.
"Bush's Toxic Legacy In Iraq"
Cheney's Lucid 1994 Rationale For NOT Invading Iraq.
Conservatives "Must" See This
***
"CIA Torture Report: Best Pax Posts"
http://paxonbothhouses.blogspot.com/2014/12/cia-torture-report-best-pax-posts.html