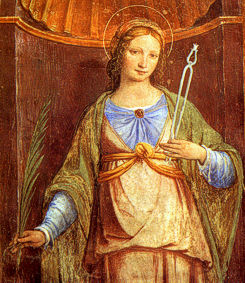 St. Apollonia, Martyr, holding the tongs that pulled her teeth out.
I knew nothing of Apollonia 'til the following email arrived.
Is she -- as suggested -- patron saint of all who dread the dentist's chair?
Danny and I had our throats blessed last week in commemoration of St. Blaise.
When you and I were young, was this ceremony "free-standing?"... or in conjunction with Mass?
It is a little known fact -- strategically obscured by workaholic Protestant culture -- that the Church has always been a great lover of leisure, a liberator of the working class.
Excerpt:
We may consider that the people living in the Middle Ages were free of labour on about 80 to
100 days a year. The amount of commemoration days, which were celebrated beside the 52
Sundays of a year, varied between 40 and about 60. Especially after the most important
religious feasts, such as Christmas, Easter and Whitsunday, people did not work for a whole
week. Work was forbidden on these days, including not only the work of the peasants and
craftsmen, but also even female textile work at home. It was also prohibited to hold a fair or a
judicial hearing, and also profane professions such as battles or travels were forbidden in
many regions."
Note his intimate relationship with wild animals - a commonplace occurrence in the lives of the saints. Blaise did not just "like" these creatures: he lived with them in their cave: the wolves, lions and bears were his community. (
Here is a revealing page entitled "Saints and Animals" from the blog of the Southern African Faith Communities' Environment Institute –
http://safcei.blogspot.com/2008/06/saints-and-animals.html
)
In the early days of Francis' brotherhood, "proto-Franciscans" living in caves and under rock outcroppings in the hills above Asissi, were such "feral" creatures that their wild appearance startled town-folk who came upon them unawares.
We Christians ought not be smarmy folk as popular images of The Good Shepherd make us out.
Y'eshua invoked shepherds because of their disdained station. Constant migration in search of "green pastures" made it impossible for shepherds to perform "the prescribed rites," and so, considered
non-observant sinners and social
outcasts, they were held in contempt by "the good church-going people." (In passing, I will note that
The Woe Passages
are insufficiently homilized -
http://www.biblegateway.com/passage/?search=Matthew+23&version=NIV
)
PS I did not notice until re-reading Apollonia's "life" that these events occurred on the north coast of Egypt. Alexandria, as you know, was home to two of The Ancient World's wonders - the Light House, or Pharos, (whence the Spanish word Faro); and the world's greatest library burned (accidently?) by Caesar in 48 BC - after operating longer than the United States has existed. http://en.wikipedia.org/wiki/Library_at_Alexandria
Recently, I saw a documentary which re-enacted the logistics of keeping the Pharos fire burning. Impressive undertaking! Rather like stoking the fires of Hell. There was also matter of getting all that fuel to the tower's top ... day after day, year after year, century after century: http://en.wikipedia.org/wiki/Lighthouse_of_Alexandria
---------- Forwarded message ----------
From:
AmericanCatholic.org
<goodnews@americancatholic.org>
Date: Sun, Feb 12, 2012 at 6:06 AM
Subject: Saint of the Day (February 12, 2012) - St. Apollonia
To: "alanarchibaldo@gmail.com" <alanarchibaldo@gmail.com>
Sunday, February 12, 2012

St. Apollonia

(d. 249)

The persecution of Christians began in Alexandria during the reign of the Emperor Philip. The first victim of the pagan mob was an old man named Metrius, who was tortured and then stoned to death. The second person who refused to worship their false idols was a Christian woman named Quinta. Her words infuriated the mob and she was scourged and stoned.While most of the Christians were fleeing the city, abandoning all their worldly possessions, an old deaconess, Apollonia, was seized. The crowds beat her, knocking out all of her teeth. Then they lit a large fire and threatened to throw her in it if she did not curse her God. She begged them to wait a moment, acting as if she was considering their requests. Instead, she jumped willingly into the flames and so suffered martyrdom.
There were many churches and altars dedicated to her. Apollonia is the patroness of dentists, and people suffering from toothache and other dental diseases often ask her intercession. She is pictured with a pair of pincers holding a tooth or with a golden tooth suspended from her necklace. St. Augustine explained her voluntary martyrdom as a special inspiration of the Holy Spirit, since no one is allowed to cause his or her own death.

COMMENT:

The Church has quite a sense of humor! Apollonia is honored as the patron saint of dentists, but this woman who had her teeth extracted without anesthetic surely ought to be the patron of those who dread the chair. She might also be the patron of the aging, for she attained glory in her old age, standing firm before her persecutors even as her fellow Christians fled the city. However we choose to honor her, she remains a model of courage for us.

If you are having difficulty listening to Saint of the Day audio, or need help setting up an audio player, go to our

Audio Help

page for more information.

CHECK OUT ALL OUR FINE

FREE

E-NEWSLETTERS FROM FRANCISCAN MEDIA:

28 W. Liberty Street, Cincinnati, OH 45202
Copyright© 1996-2012 Franciscan Media. All rights reserved.