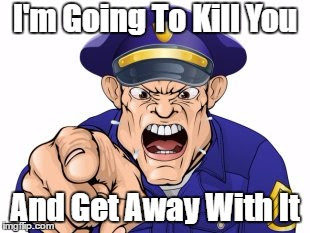 "Fuck This Guy! I'm Going To Hit Him."
Dash-cam video shows officers tried to run over man before shooting him 14 times
"We Need To Stop Saying Most Cops Are Good": Bill Maher Takes On Wave Of Police Beating Videos
"Bad Black People." Why Bill O'Reilly Is Wrong Even When He's Right"
American Police Shoot An Unarmed Black Man Every 72 Hours
(Taking police and vigilante shootings together, we find that an unarmed black man gets shot every 29 hours.)
There's Never Been A Safer Time For Cops Nor A More Dangerous Time For Criminals
Americans Are 9 Times More Likely To Be Killed By A Policeman Than A Terrorist





"Is The United States Still A Nation Of Law? Bad Cops And Bad Politicians Walk"