How 75 Of 4000 Trump Lawsuits Could Distract From A Trump Presidency
Senior Justice Department officials warned the FBI that Director James B. Comey's decision to notify Congress about renewing the investigation into Hillary Clinton's private email server was not consistent with long-standing practices of the department ...
Clinton calls on FBI to release 'full and complete facts' of email review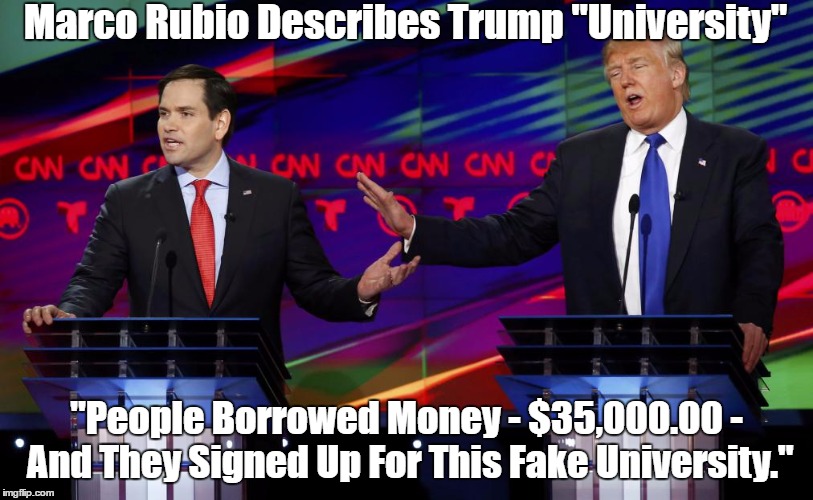 Watch Marco Rubio Call Out "The Donald" Over Trump "University" Scam
"Trump University: Yes, It Was A Massive Scam," National Review
Vanity Fair's "Big Hair On Campus." Will Trump "University" Scandal Tumble Trump?
Will Trump "University" Scandal Tumble Trump?
Married Couple Say Trump Defrauded Them Of $35,000.00 But Will Vote For Him Anyway
Watch Trump University Fraud Victims Describe How Devious Donald Scammed Them
How Bad Are The Charges Against Trump? Really Bad (Fortune Magazine)
Will The Trump "University" Scam Topple Devious Donald
Trump University's Star Student: "It Was A Scam"
"Trump U: The Big Con Behind The School Accused Of Fraud," David Corn, Mother Jones
New York's Attorney General Calls Trump University "A Fraud From Beginning To End"
Compendium Of Pax Posts About Trump "Univers
ity" Scam