The copper river in the Gulf of Alaska-NASA
The world is changing before our very eyes yet most of us choose to ignore it. There has been a lot of horrible news lately regarding the rapid melting of the planets snow and ice. Irreversible melt in Antarctica, ice free arctic ocean in summer, and massive ice shelves that have held back Antarctica's glaciers for tens of thousands of years are now cracking. In Alaska, land based melting glaciers are rapidly retreating under the pressure of their own weight and the forces of gravity.
The
National Snow and Ice Data Center
explains how a glacier moves. "Glaciers move by internal deformation of the ice, and by sliding over the rocks and sediments at the base. Internal deformation occurs when the weight and mass of a glacier causes it to spread out due to gravity. Sliding occurs when the glacier slides on a thin layer of water at the bottom of the glacier. This water may come from glacial melting due to the pressure of the overlying ice or from water that has worked its way through cracks in the glacier. Glaciers can also readily slide on a soft sediment bed that has some water in it. This is known as basal sliding and may account for most of the movement of thin, cold glaciers on steep slopes or only 10 to 20 percent of the movement of warm, thick glaciers lying on gentle slopes.
When a glacier moves rapidly around a rock outcrop or over a steep area in the bedrock, internal stresses build up in the ice. These stresses can cause cracks, or crevasses, on the glacier surface."
Alaska's southern coast glaciers that once terminated in the ocean, have now retreated far up Alaska's valleys. A recent study shows that fresh water and glacial melt from these retreating glaciers are "pouring into the Gulf of Alaska accumulating more water than is seen in some of the world's great rivers".
Incessant mountain rain, snow and melting glaciers in a comparatively small region of land that hugs the southern Alaska coast and empties fresh water into the Gulf of Alaska would create the sixth largest coastal river in the world if it emerged as a single stream, a recent study shows.

Note: Some of the links above I added, they are not all part of the original OSU article
This is one of the first studies to accurately document the amount of water being contributed by melting glaciers, which add about 57 cubic kilometers of water a year to the estimated 792 cubic kilometers produced by annual precipitation in this region. The combination of glacial melt and precipitation produce an amount of water that's larger than many of the world's great rivers, such as the Ganges, Nile, Volga, Niger, Columbia, Danube or Yellow River.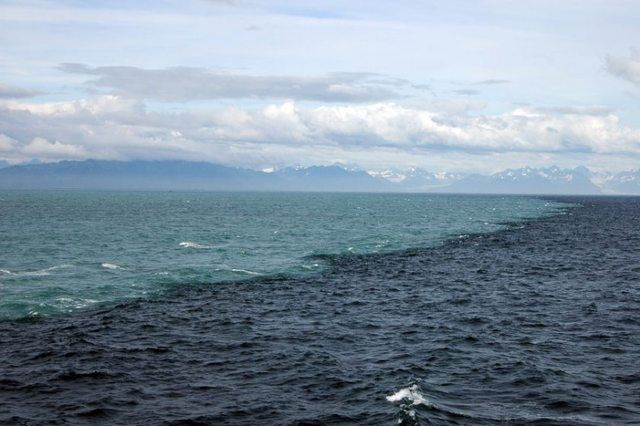 Boundary between coastal waters influenced by glacial weathering (light blue) and offshore waters of the Gulf of Alaska (darker blue). Ken Bruland photo
Ken Bruland a professor of ocean sciences at University of California-Santa Cruz took the above
photo in 2007
while on a study.
He said the purpose of the cruise was to examine how huge eddies -- slow moving currents -- ranging into the hundreds of kilometers in diameter, swirl out from the Alaska coast into the Gulf of Alaska.


Those eddies often carry with them huge quantities of glacial sediment thanks to rivers like Alaska's 286-mile-long Copper River, prized for its salmon and originating from the Copper Glacier far inland. It empties out east of Prince William Sound, carrying with it all that heavy clay and sediment. And with that sediment comes iron.

"Glacier rivers in the summertime are like buzzsaws eroding away the mountains there," Bruland said. "In the process, they lift up all this material -- they call it glacial flour -- that can be carried out."

Once these glacial rivers pour out into the larger body of water, they're picked up by ocean currents, moving east to west, and begin to circulate there. This is one of the primary methods that iron -- found in the clay and sediment of the glacial runoff -- is transported to iron-deprived regions in the middle of the Gulf of Alaska.

As for that specific photo, Bruland said that it shows the plume of water pouring out from one of these sediment-rich rivers and meeting with the general ocean water. It's also a falsehood that these two types of water don't mix at all, he said.

"They do eventually mix, but you do come across these really strong gradients at these specific moments in time," he said. Such borders are never static, he added, as they move around and disappear altogether, depending on the level of sediment and the whims of the water.
Undeniable evidence of land glaciers melting fast in a very quickly warming arctic, can be seen below in this must see clip.
"Such a strange bizarre fascination in seeing these things you don't normally get to see come alive." James Balog