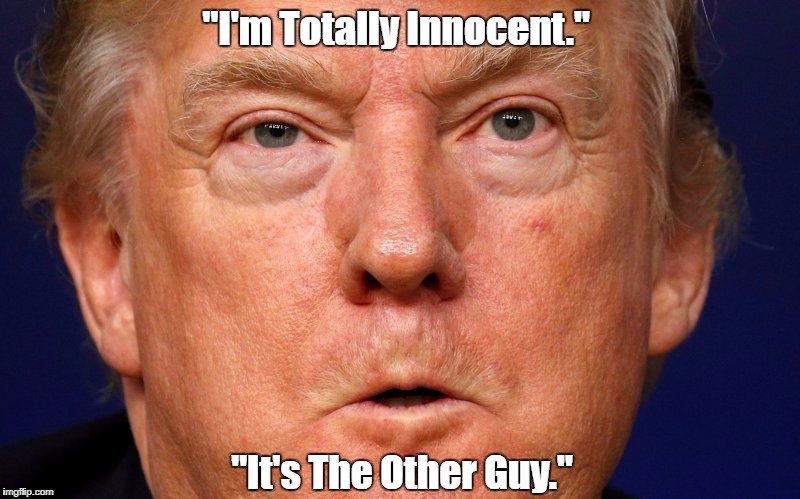 "Believe me."
Trump Says Mueller Just Called Him and Said He's the Most Innocent Person Ever
WASHINGTON (
The Borowitz Report
)—The special counsel, Robert Mueller, just called Donald Trump to tell the President that he was "the most innocent person ever," Trump told reporters on Thursday.
"It was the middle of the afternoon, and he just picked up the phone to say how innocent I was," Trump said. "He said I was the most innocent person he'd ever come across, and maybe in history."
"He said he had been over all of the evidence and that he and his staff would spend hours just looking at each other in amazement at about how unbelievably innocent I was," he said.
Trump said that he asked Mueller why, in his opinion, the media had reported so many stories about his campaign colluding with Russians. "Bob said to me, 'Are you talking about the failing New York Times and CNN?' " Trump reported. " 'They have been very unfair to you.
They are bad (or sick) people. Sad!' That's what Bob said to me."
The conversation wound down with a series of "pleasantries," Trump said, with Mueller complimenting him on the size of his 2016 victory, including his enormous win in New Hampshire.
Compendium Of Pax Posts Concerning Trump's Habitual Lying
Ted Cruz Gives Detailed Explanation Of Trump's Pathological Obsession With Continuous Lying
Fred Owens' Facebook Page, "Fake News" And The Credibility Of The Mainstream Press
Compendium Of Pax Posts Re: Trump's Non-Stop Ability To Tell One Lie After Another
Compendium Of Pax Posts On Post-Inaugural Blur Of White House Lies And "Alternative Facts"
The Borowitz Report: "Trump Blasts Media For Reporting What He Says"
28 Enormities That Prevent Conscionable People From Hoping Trump Is A Successful President
Donald's Doozies: A Yuge (And Yugely Incomplete) Compendium Of Trump's "Pants On Fire" Lies
Compendium Of Pax Posts About Donald Trump
Donald Trump, Felon: Re-Visiting Trump University
Millions Of Deplorables Voted For Trump Because He Was The Only Candidate Who Was As Crazy As They Are




We Redacted Everything That's Not A Verifiably True Statement From Trump's Time Magazine Interview About Truth

Fact-Checking Trump's TIME Interview On Truths And Falsehoods

Donald Trump: A Man So Obnoxious That Karma May See Him Reincarnated As Himself
Shit-Slinger Trump Says Obama Wiretapped Trump Tower During Campaign. Obama Is "Bad, Sick"
The Best Photographic Evidence Of Trump Inaugural Crowd Size: From Stage & From Monument
National Park Service Releases Official Photos Of Trump And Obama's Inaugural Crowds
"There Are Two Ways Of Lying..." Denis De Rougemont And Donald Trump

Behind The Mask, The GOP's True Face: Ayn Rand's Ideological Acolyte Paul Ryan Promotes Her Central Belief That Altruism Is Evil




Why Americans Have A Moral Obligation NOT To Respect Donald Trump




American Conservatives And Aggressive Ignorance




Too Ignorant To Keep Democracy Alive




"Are Republicans Insane?" Best Pax Posts

"President Trump's Lies, The Definitive List"

New York Times

"President Trump's Lies, The Definitive List"

The Toronto Star's Complete Tally Of Trump's 337 Lies Since Inauguration (June 26, 2017)