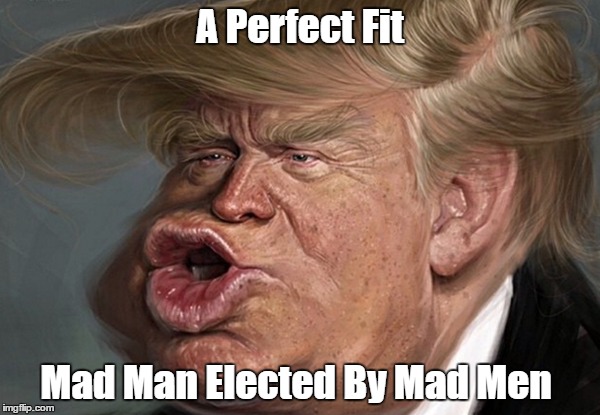 Trump speaks for the minority of people who support him, maybe 40%. ...... and he's bluffing. Such a lot of hot air comes from this man's mouth. How would you like to be Theresa May and have to pretend you're listening to this windbag?
Alan:
As the importance of formal religion wanes in the lives of Americans, political preference assumes the characteristics of religious commitment, complete with dogma, devotional piety and blind faith.
It has never occurred to me to hate Trump -- a pitiable man, a crook and a compulsive liar -- a view spontaneously shared just yesterday by my high school sweetheart.
Yesterday also marked Trump's demonstrable collusion with Russia, throwing mud at America's trustworthy allies while insisting that his fellow thug's fiefdom be re-admitted to the G-7 without even suggesting a quid-pro-quo.
If that's Deplorable Donald's "Art of The Deal," our Cheater-In-Chief could learn some fundamentals by watching grade school kids trade baseball cards. http://paxonbothhouses.blogspot.com/2018/06/trump-colluded-with-russia-on-june-8.html
If you do not know the work of Pulitzer Prize-winning journalist David Cay Johnston -- Trump's first biographer and most tenacious chronicler -- you can feast on a smorgasbord of well-documented information at
the following blog post,
including audio and video files of Johnston, everyone of them packed with unusually informative, richly-contextualized historical analysis. http://paxonbothhouses.blogspot.com/2018/04/its-even-worse-than-you-think-what.html
And finally I draw your attention to Snopes' inquiry,
"Did Ronald Reagan Warn Against 'Demagogues' Willing to Declare a Trade War Against America's Friends?" Prepare for eyes to pop. http://paxonbothhouses.blogspot.com/2018/06/snopes-did-reagan-warn-of-demagogue.html