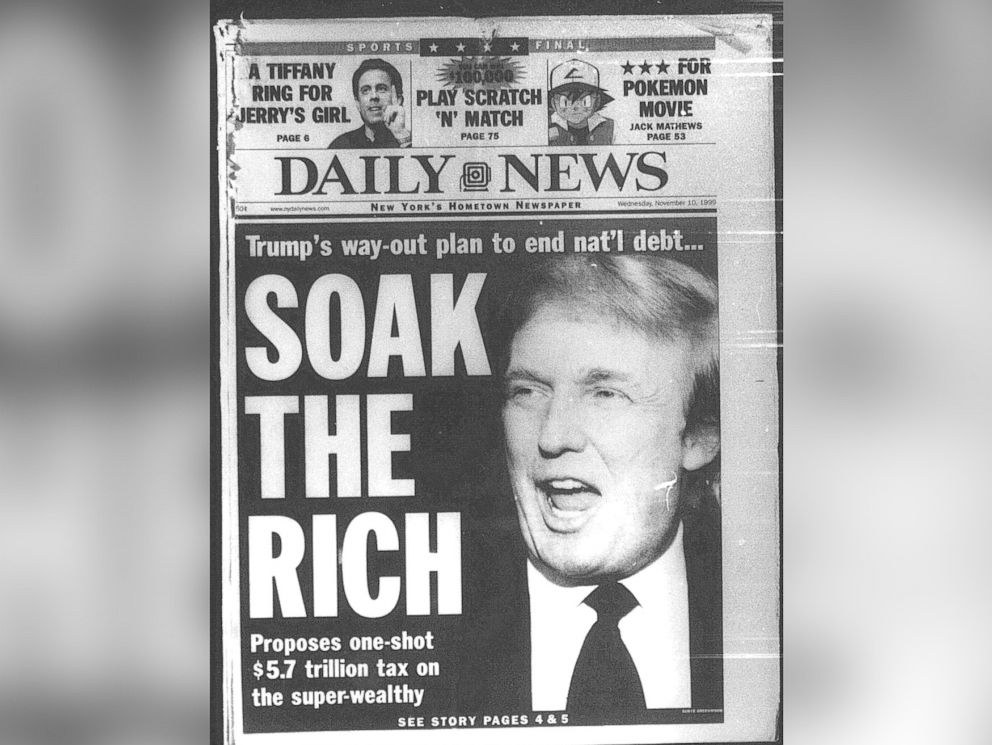 Trump: 'Taxes for the rich will go up somewhat'
Eric Bradner, CNN
Washington (CNN) Donald Trump says taxes on the wealthy could increase if he's elected president -- and that he personally wouldn't mind paying higher taxes.
It's a reversal from the tax plan Trump has proposed, which would slash taxes on the wealthy. But the presumptive Republican nominee said Sunday he'd be willing to bargain away those cuts.
"On my plan they're going down. But by the time it's negotiated, they'll go up," Trump said on ABC's "This Week."
"We're going to submit the optimum," he said of his tax proposal. "That's what I'd like to get and we'll fight for it. But from a practical standpoint, it's going to get renegotiated. And in my opinion, the taxes for the rich will go up somewhat."
He said the points in his tax plan he's most intent on keeping are tax cuts for the middle class and businesses -- particularly those that have refused to bring profits earned overseas back into the United States. He'd like his plan to incentivize them to return the profit to the U.S.
"And I will fight like hell for that," he said.
He said his current tax plan is just an opening bid for Congress, acknowledging it would be changed, especially by Democrats who would insist on higher taxes on the rich.
"It's a concept. And I'll tell you what the real concept is, lower taxes for business, lower taxes for the middle class, lower taxes for everybody," Trump said.
"And then we're going start negotiating. So if I want to get lower taxes, which is very important to me, I'm not going to put in high taxes. And I'm not even going to put in what I necessarily want. I'm going to put in lower than I want, and we're going to negotiate," he added.
Trump said he personally would be willing to pay more in taxes.
"I am willing to pay more," he said. "And you know what? Wealthy are willing to pay more. We've had a very good run. You know, we hear all about Obama, we hear all about -- we've had a very good run."
In an interview on NBC's "Meet the Press," Trump also said businesses may wind up paying a higher rate than he proposes in his plan -- although they'd still see a tax cut overall.
"Our businesses pay more taxes than any businesses in the world. That's why companies are leaving. So they may have to pay a little bit more than my proposal," he said.
He said: "Under my proposal, it's the biggest tax cut by far, of any candidate by far. But I'm not under the illusion that that's going to pass."