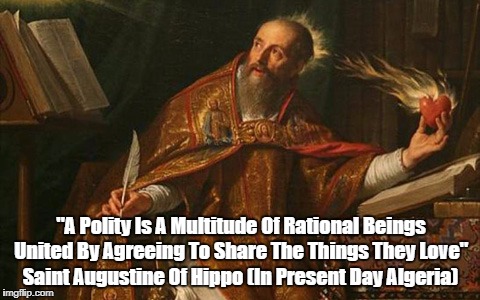 Alan: In the following interview, historian Meacham cites the above quotation by Augustine of Hippo.
Given Augustine's birth as a North African person-of-color (he was in fact a Berber, the root word of "barbarian") it is remarkable how uniformly Christian iconography represents Augustine as "a white European."
What's It Like To Be A Historian At This Political Time?
"Every Day Is Christmas"
NPR Interview with Historian John Meacham
http://www.npr.org/2017/07/04/535470981/whats-it-like-to-be-a-historian-at-this-political-time-every-day-is-christmas
Augustine of Hippo
https://en.wikipedia.org/wiki/Augustine_of_Hippo
The Etymology of "Barbarian"
http://www.etymonline.com/index.php?term=barbarian
Alan: Twenty years ago I asked a Notre Dame theologian if he knew whether Augustine had said, "As time goes on, the good will get better and the bad will get worse."
Without hesitation Father Mike answered "Yes."
When I asked how he came to know this obscure datum, Mike replied: "Because Augustine said everything."
One remarkable thing that Augustine (father of a bastard son, Adeodatus) demonstrably said was: "Lord, make me chaste... but not yet."
Quotations from Augustine's "Confessions"
"But my sin was this, that I looked for pleasure, beauty, and truth not in him but in myself and his other creatures, and the search led me instead to pain, confusion, and error." (Bk. I)
"In my youth I wandered away, too far from your sustaining hand, and created of myself a barren waste." (Bk. II)
"But where was I when I looked for you? You were there before my eyes, but I had deserted even my own self. I could not find myself, much less find you." (Bk. V)
"I was looking for you outside myself and I did not find the God of my own heart." (Bk. VI)